Wow – I'm impressed! The finished painting actually looks more or less as it did in my head! This is the final version of my painting for Danielle Daniel's class (part of the 21 Secrets 2013 course). Thank you for the tip about the 'Stabilo All' pencils Danielle – worked like a dream! They have this amazing ability to be able to write on almost any surface – they certainly worked on my glossy gel medium! The title for the piece, 'Snow White Kite', is taken from the Simon Dupree & The Big Sound song 'Kites' which was a hit way way back in the mists of time!
I initially 'saw' the girl in the background paint and used the Stabilo All pencil to sketch in the details. I painted her using acrylic paint and used a Uniball sign pen and an Edding 780 paint marker to outline the kite. Lastly, I used a Pilot gold marker to write on the kite.
I am really enjoying the 21 Secrets 2013 Course – thank you Connie! It's not too late to come and join the fun. I'm off now to see what the next class has in store for me – see you later!

Today I've been working on Danielle Daniel's class, part of the 21 Secrets 2013 course. I had great fun and got very messy creating this background.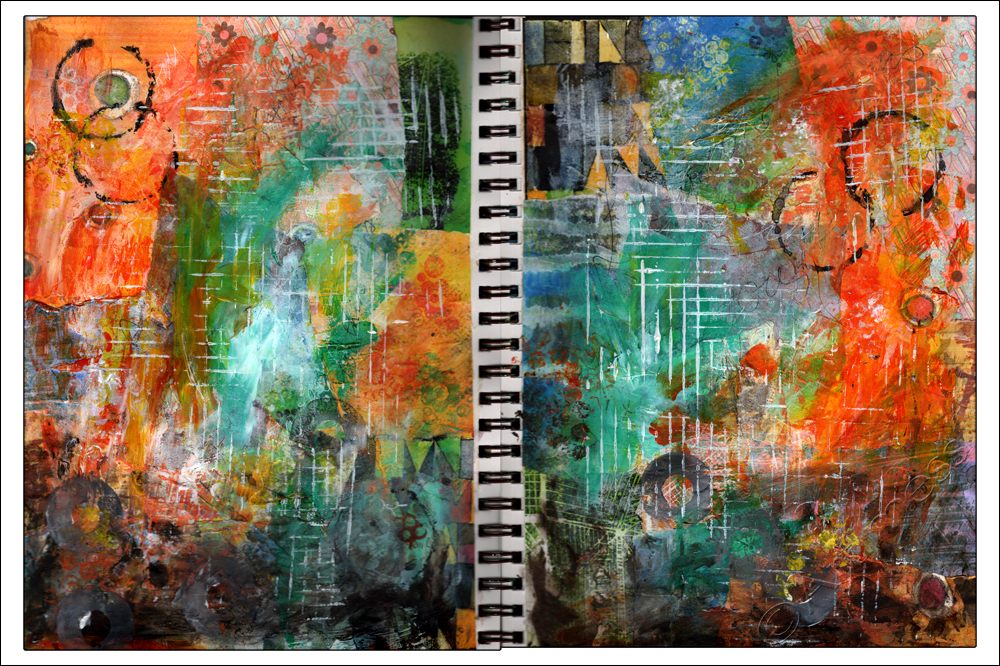 I started out with a collage of printed papers from my earlier artwork, then added acrylic paint using a variety of techniques. Next I added journalling followed by more acrylic paint! I still have more to do to finish – there's at least one person waiting to be painted – but I really like how it looks right now, so I thought I'd share it with you.
When I finished painting, I had rather a lot of leftover paint on my palette, so I created this in my notebook.
Then I decided to see what it looked like with a bit of digital blending. I quite like how it turned out so far, but I have a feeling I'm not finished with it yet!

"The most precious gift we can offer others is our presence. When mindfulness embraces those we love, they will bloom like flowers."
I thought this quotation from Thich Nhat Hanh was very appropriate for my journal spread inspired by Cathy Bluteau's class on the 21 Secrets 2013 course.
Why is it that whenever you want a specific sort of image in a magazine you can never find what you want? I ended up sourcing my flowers online from Five5Cats who very kindly allows her images to be used for private artwork. Thank you Cindy!
I collaged the background using old papers and flowers, then added doodling using Pitt Artist Pens. I coloured my doodles using Inktense pencils and filled in with more collage using various tapes and pieces of old artwork. I created the quotation using digital text and finished off by adding details with Pitt pens, an Edding 780 paint marker, neocolour crayons and distress ink pads.
I've never done anything quite like this before, but I really enjoyed it and will definitely do some more pages using these techniques. Thank you Cathy for a great class!

"Just let go… … and soar to the heights …" was inspired by the second part of Carissa Paige's class on the 21 Secrets 2013 course.That's me painted over to look like a bird soaring in the sky – Oh how I envy the birds their ability to soar on the wind!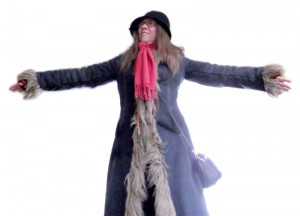 I created a background using a mixture of acrylic paint and spray ink then glued on this silly picture of me with my arms outstretched pretending to fly! I painted over the photo with acrylic paint, turning my arms into wings and giving myself some nice purple feathers and an orange beak, then added the digital text which I coloured using neocolour crayons. I finished it off by adding a couple of friends for me to fly with cut out from old paint stained tissues!
The arrival of this wonderful card from Australia has left me very sad. iHanna's postcard swap 2013 is finally over! But I have got some beautiful reminders and some of the lovely people I've met want to keep in touch, so hopefully there'll be some more artwork winging it's way around the world. Meantime, if you hear of any more swaps – please let me know!

Yeah! – at last, I got to play mixed media!! I had so much fun!
I finally got the courage this year and signed up for 21 Secrets 2013. As I have never really done any proper art journalling, I treated myself to a smart Strathmore Mixed Media Journal – it was a dream to use, and just the right size!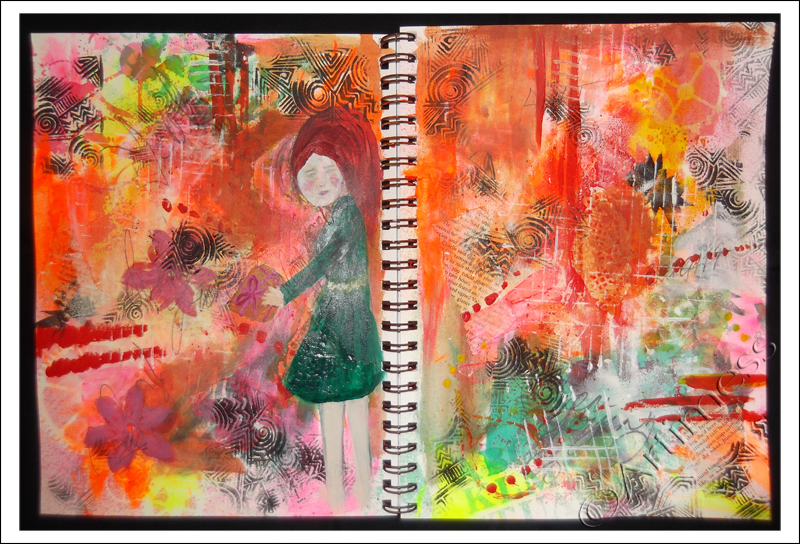 This is my play page, which I've titled 'The Gift', inspired by the class from Carissa Paige. I played with acrylic paint, ink sprays, stencils, foam stamps, staz-on ink pads, collage, and graphite pencils. I found the girl in green holding 'The Gift' lurking in the painty mix. Thank you Carissa for the gift of freedom you inspired with your class. I know I had fun – I'm still picking the paint and gel medium off my fingers!!
I made an interesting discovery when I tried to scan the finished picture – my scanner does not 'see' luminous acrylic paint, and as I used rather a lot, it left the colours looking a bit flat! So I spent ages trying to get a good photo which didn't have too much reflection! Has anyone else discovered this problem?
Last but not least – I received my ninth postcard this morning all the way from Australia – a wonderful hand drawn mandala from Lulu – beautiful! Thank you so much. Only one more postcard to go – then it's all over for this year – it's been so much fun! I'll have to hunt around for another swap to take part in. Anyone got any ideas?
Now I'm off to play mixed media in the next part of Carissa's class!