The other day, while rummaging through my photo files looking for an old remembered image, I came across three images which caught my attention: a bag of grapes, a string sculpture, and some old seed heads.
They looked like they might work well together…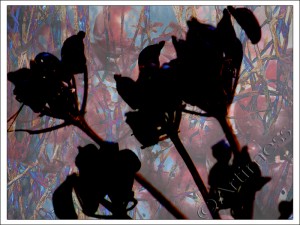 …so I just had to try them out with some digital blending! I love the 3D effect of this one…
…and the mosaic effect on this one. But as usual I can't decide which one I like the best. How about you?
Finally – I just couldn't resist playing with this flower!
No blending on this one, just a few digital adjustment layers, some grunge brushes and a layer mask. What do you think?