Moving day is less than 5 days away. Almost everything is in boxes, but I keep delaying sealing them up so that I can keep painting! We're moving into deep clean mode now – cleaning out cupboards, washing down paintwork and stuff like that. I ache all over from all the unaccustomed exercise!
I think I may be getting addicted to painting on recycled padded envelopes! They are so much fun, plus they're about the only things I can find to paint on at the moment! After the move I'll have loads of recycled cardboard – but for now I'm really enjoying my mail art.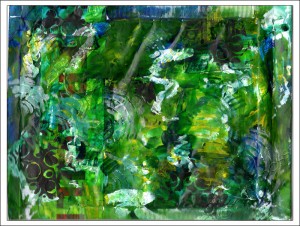 I began by adding some "Fragile" tape to the envelope to get it started, then added lots of layers of acrylic paint with my fingers. I originally intended to use ink pads to do my stamping, but they are packed too deep for me to get to them right now, so I used some more acrylic paint on my homemade stamps. I finished off by adding a bit of drippage – very watered down acrylic paint. I'm not sure if it's totally finished yet, but it felt like the right place to stop for now.