I hope you all had as good a holiday as I did. I'm busy now catching up and getting ready for the new year! Part of my preparations included completing this free workbook from Susannah Conway. It really is my type of workbook with lots of space for drawing and doodling!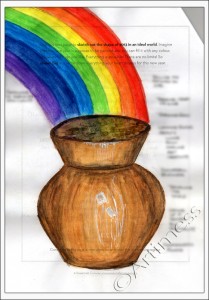 This is my response to her instruction to "Sketch out the shape of 2013 in an ideal world".
I haven't had time to do any artwork since we got back from our family visits – but don't worry – I'll be playing very soon. I'm getting very bad withdrawal symptoms! Meantime let me wish you all a Very Happy New Year with this photo taken a few minutes from our house on our return.