After playing with Dion Dior's technique yesterday I had to have a go at drawing a mandala using it.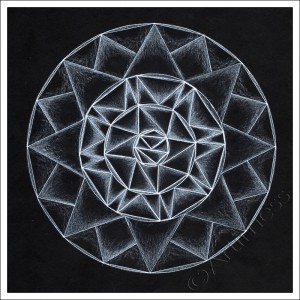 This is what I came up with. I drew and coloured the mandala using a white watercolour pencil together with a Sakura pen-touch pen for the highlights/outlines. I'm quite pleased with how it turned out. What do you think?

I've been a bit caught up in the mechanics of website maintenance for the last few days and have been neglecting my mess-making creativity! Thank goodness for the Monday Life Book lesson from Dion Dior this week – it was just what I needed to get back into mess making again!
Starting with a piece of black paper, I drew a handprint and mini mandala using a white watercolour pencil, then shaded between two using an assortment of dry white media which included a neocolour crayon, a soft pastel and a jelly roll pen. It was great fun and I think I'll be playing with this concept some more over the next few days!
Just to add a bit of colour to the post, I had to show you this.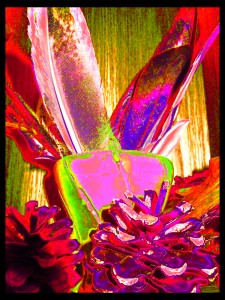 It happened when I was preparing this image for uploading yesterday. I accidentally pressed a few extra buttons … well maybe I did mean to press them … but it looks rather pretty, don't you think?

I'm playing catch up today – it's been a really busy week!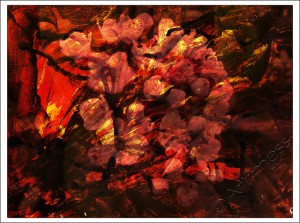 On Tuesday, I created a couple of backgrounds using a mixture of acrylic paint and ink. I scanned them both into the computer then added a photograph of some flowers and blended them to create this image.
On Wednesday I followed a video from Doll Dreams teaching us how to draw these cool doll birds! I tried it out in my everyday notebook using a uniball eye pen, then did the doodle later using my rapidograph pen while I was on the telephone! I didn't plan for them to go together, but I think they do anyway! Do you agree?
Today I had fun playing with all sorts. I started by colouring the page with neocolour crayons, then collaged an embossed sheet which I had coloured with distress ink and the stamped image of the globe which I cut out. Next I added the text which I printed on the computer and coloured using a watercolour pencil and a gold marker pen. Finally, after scanning, I added a bit of digital shading and distressing. I really like how it turned out. What do you think?

This weeks Life Book lesson is about celebrating the things we have achieved this year. I am very fortunate in having many things to celebrate – having given up my security to travel, successfully navigating the subsequent soul searching and releasing that went with it, resettling in a new location, studying and developing my spiritual life, completing the first two levels of Reiki training, and getting back into creating every day.
So it gave me great pleasure to create this whimsey with her animal totem, Badger. I drew her in pencil, then coloured her using neocolour crayons. I used some patterned paper to collage her dress and used letter stamps to create the word 'celebrating' in the balls I gave her to juggle with. I added golden stars using star confetti and coloured the background using a neocolour crayon. It looked good but I felt something was missing. So… I used a watercolour pencil to write words describing what I was celebrating around the balls, then blended them into the background using a damp brush. Although it more or less obliterated the words, the extra colour just completed the picture.
Thank you Tam for such an inspiring lesson 🙂