Nearly May – and the weather's still no better. We've had a mixture of snow and hail storms this week! But it hasn't stopped me making art.
I'm really loving working in this A6 journal – it's perfect for those days when the big journal is too intimidating!
I created this spread using watercolour paints, tombow markers, a stencil and a gel medium resist.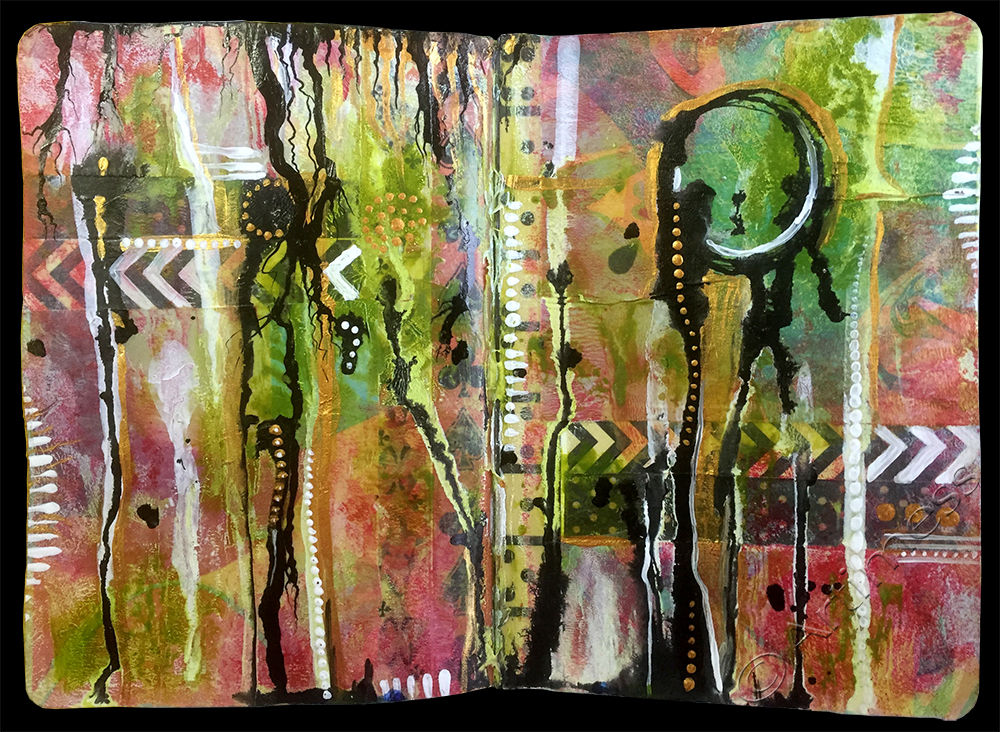 This spread started out as a collage which then got covered up with layers of paint, ink and paint markers. I love the richness of the colours.
I started this next spread by covering the pages with washi tape, then used thin washes of acrylic paint to colour the page and create the 'green girl' on the right.
My 'I Believe' spread was inspired by Effy's Book of Days spreecast about wonder. I really love how it turned out.
In this last spread I decided to play with some rediscovered hand made funky foam stamps that I made quite a few years ago. I had so much fun – I'm planning on making some more stamps to add to the collection!
I've almost finished making the postcards for the iHannah DIY Postcard swap so keep watching for some pictures of those once they're done.
A few weeks ago I attended the last of a series of Person Centred Expressive Arts Workshops with Dinah Brown up in the Lake District. One of our tasks over the weekend was to create a loom from natural materials into which we wove words from stories we had written. This is my story loom.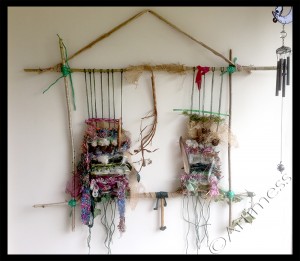 Going back to messy paint, I've managed to create a couple of rather spooky images in the last few days.
This first one was created using collage, washi tape together with some distress ink and fluid acrylic paint. When I had finished playing I noticed this strange looking person looking out at me so I used a white posca paint marker and some light coloured very dilute acrylic paint to bring the figure out from the background. Then I noticed three more shadow people standing by.
This second image started out as just playing with tombow brush markers distress ink spray and dripped fluid acrylic paint. I decided to make the drips look 3D by highlighting and low lighting them with posca paint pens. When I'd finished, I noticed that I'd created another spooky image. Not my usual style – will there be more?

I really enjoyed all the mixed media work I've been doing recently, so I decided to do some more playing with layers, both physical and digital.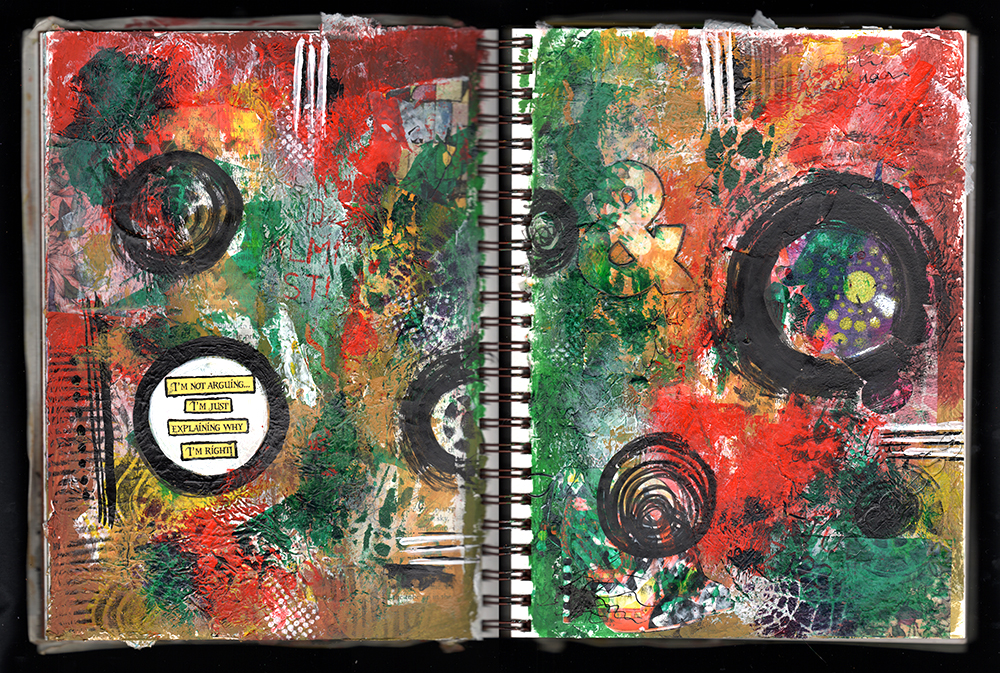 This first image started out as a collage using a mixture of old papers, book pages, old paint stained tissues, and magazine clippings. This was followed by a liberal application of acrylic paint, stencilling, homemade stamps, washi tape, and more collage. The quotation made me smile, as it's the kind of thing I say all the time!
This second image was inspired by some work I did at the weekend on the Person Centred Expressive Arts workshop that I attended run by Dinah Brown and Nuala Eden. It began life as a geometric abstract created using watercolour pencils. Although it was quite colourful, it looked a bit flat, so I gave it the mixed media treatment. I added acrylic paint, stencils, homemade stamps, paint markers and indian ink, then finished it off with some letter stamps and collaged letters.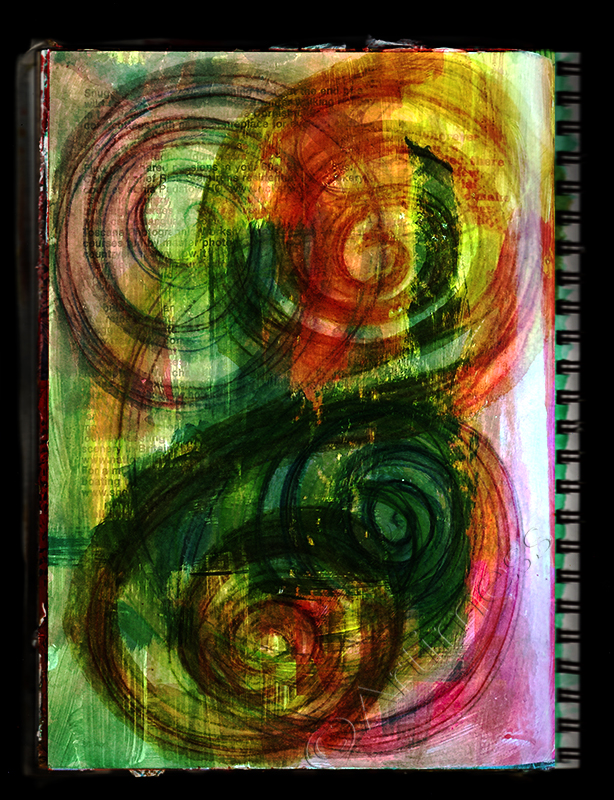 Its been a while since I played with any digital layers, so this last image is a digital blend of two journal pages – a series of swirls drawn with watercolour pencils, and a page created to use up some leftover paint.
Only five days left before the start of 21 Secrets Fall 2015 – I'm really looking forward to working and learning with all the amazing teachers Connie has gathered together.

In a new effort to inject some discipline into my art making, I've joined Lani Gerity's Morning Pages Daily Art Practice eCourse and am attempting to start journalling every day! But as usual with these things, Im already behind with posting the images, so here goes for a catch up.
I started by creating this journal background in my recycled journal using acrylic paint, stencils, a coffee creamer seal, a net bag from the grocery shopping, some molding paste and a few homemade stamps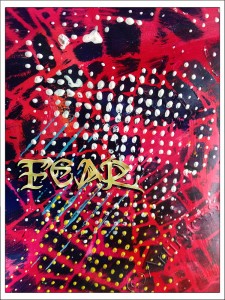 Next I used a photograph of some of the detail from the background (can you spot it?) and added some digital text to it.
After reading Soul Mate Dolls: Dollmaking as a Healing Art
by Noreen Crone-Findlay, I just had to have a go at making one of her paper dolls. I created her using card, fabric scraps, washi tape and wool, added her to the journal background above with a digital face, then added some digital text to the found text.
This last image was created in my handmade journal using leftover acrylic paint, a stencil and some digital text. Watch out for more journalling tomorrow!!

Still playing catch up with Life Book 2013 classes, today I finished this piece for Tam's week 10 lesson.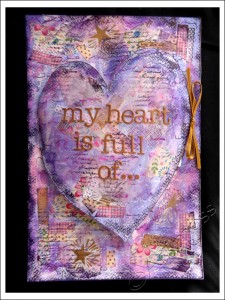 I decided to add my own twist to the lesson by folding my paper in half and cutting a heart shape in the front half to make a heart door. After cutting the door, I started the background using acrylic paint, then added a collage of printed tissue paper, washi tape, and paper ribbon. Next I used Caran d'Ache neocolour crayons and stamping with a staz-on ink pad to add more colour, then finished the front using die cut letters. Once it was all dry, I taped in the ribbon ties and stuck the two halves together.
On the inside, I covered the back of the door with torn tissue paper and gel medium, then set to work making the mini scrolls for the centre from a mixture of torn magazine pages and digital design prints, decorating some of them with stamping. I filled the heart shape with gel medium, and arranged the scrolls on top. Lastly, I made the 'Gratitude" banner by sticking some die cut letters on a scrap of digital design paper.
I had great fun with this lesson – thank you so much Tam!

Ever since Tam published this week's Life Book 2013 Lesson from Christy Tomlinson, every spare minute I've had has been devoted to getting messy playing with the new techniques Christy taught us.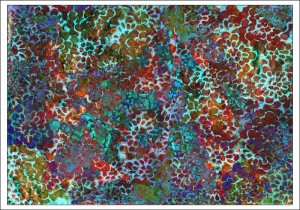 Along the way I had some leftover paint which I used with a flower stencil to create an image. I scanned this together with the sheet I prepared for making the flowers in the main project, then blended them. It'll make a good background for something one day!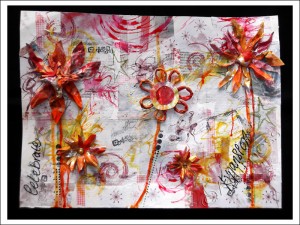 Finally – the finished product! I had so much fun! I started by creating a mixed media collage background using newspaper, old magazine inserts, bits of old envelopes, washi tape, white acrylic paint, inks, stamps and marker pen for the words. Then came the fun part of making the flowers. You'll have to do the course if you want to know how, but I used kitchen roll, tissue paper, very runny acrylic paint, stencils, stamps, kitchen foil and lots of gel medium. I had to adapt some of the ingredients as I didn't have everything on Christie's list! It was great fun, and very messy! – Thank You, Christie!
I've really been missing drawing this year, so today I drew the Pink Lady! I wasn't going to colour her at all, but then I had an accident over her right eye with my white marker. So she now has blue eyes! Not a bad cover up job!