You've probably heard the saying, "One man's trash is another man's treasure". This latest mandala is made almost entirely from "one man's trash"!
One of my workplaces have a large laser cutter which collects quantities of leftover bits from the work that people do on it. This mandala is created from some of those leftover bits, stuck to a circle cut from an old cardboard box with pva glue.
I couldn't decide whether to leave it the original colour, or whether to paint it, so I tried adding some digital colour to help me make up my mind.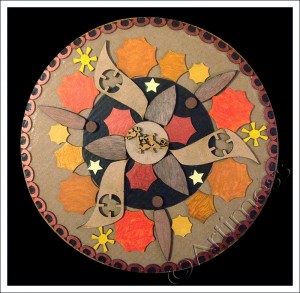 I decided to paint it and this is the result. Which do you like the best?

I have never been a great one for glitter, although I have recently become quite addicted to twinkling H2O's. So when I read the introduction to my next 21 Secrets 2013 class I was a little nervous. Glitter – and more glitter!
Entitled Sparkle-Arkle, Dion Dior's class promised lots of light catching paint and glitter. Wow! – so many new techniques wrapped up in one class – and this is just part one!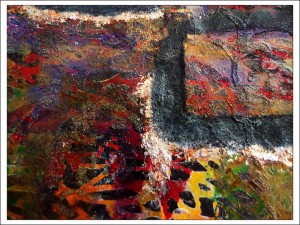 Much glitter later (I'm still covered in it and so are my scanner and my laptop)… here is the final result. I've included a detail photo as the scan really doesn't do justice to the amazing lustre of the final piece. The list of ingredients I used is long: water colour paint, tissue paper, Twinkling H2O's, gloss gel medium, glitter, stencils, stamps, acrylic paint, matt gel medium, gold thread, gilding flakes, pva glue, glue pen, and perfect pearls. I didn't have a lot of the suggested products so I had to improvise, but it was great fun!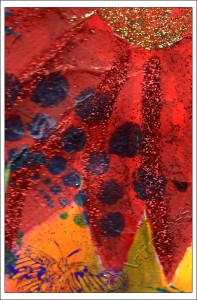 I'm not going to attempt to describe the process – you need to sign up for the course for that, I'll just show you this sneak peek of the underpainting.
Now if you'll excuse me, I'm off to start part two of Dion's class. More glitter!

It started with an A4 sheet of acetate. I added a generous covering of pva glue followed by a dash of alcohol ink, some lumiere paint, a few sprinkles of glitter and some torn pieces of newspaper. I covered this with three layers of tissue paper (and some more pva glue) then left it to dry overnight!! This morning I assembled my own collage stamp using a selection of unmounted stamps stuck on a large piece of perspex and stamped the front of the acetate using a staz-on ink pad. Result …..
Most people would stop there …. but me …. I had to scan it into the computer …. and then I had to try blending it with something else!! I think it looks quite good blended with last nights Sail Collage. There were two that I really liked …
What do you think?