The 1st of August has arrived bringing with it the start of Effy's challenge to blogalong with her for 30 days in August. There's still time to join in if you haven't already, just click on the link below.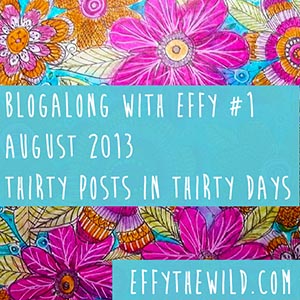 Being a little slow off the mark, I have just decided to join in Effy's Inner Excavate Along where she is going through Liz Lamoreux's book Inner Excavation. Effy has nearly finished, but I'm just starting …. O well as Effy says, I own the book so I can work through it whenever I like :).
Anyhow… after reading all the ideas and suggestions in chapter 1, I decided to create a word poem using a few of the words on the pages of my recycled journal. Originally I thought I'd add some joining words between the words on the page, but on reflection, I decided that would be overkill and have bravely left them stark and suggestive. I hope you like them.
I started out by very careful covering the words I wanted to use in masking fluid. Once that was dry, I covered the pages with a thick layer of gesso, then started adding layers of acrylic paint, stencilling and stamping. When I was happy with the result, I carefully peeled off the masking fluid to reveal the words, then added my theme 'I Begin…' using die cut letters.
I'm off to see what everyone else has been up to now. See you tomorrow!

I've not been blogging very regularly of late, so when I got effy's newsletter today and saw that she was hosting a blogalong during August, I thought it would be a good idea to sign up in an attempt to complete thirty posts in thirty days!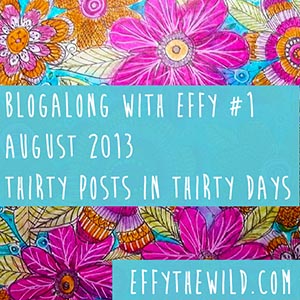 Meanwhile, I've been back to playing catch up with the Life Book 2013 lessons. I started with Danita's great class entitled Key to Freedom. The class started with a link to this cool podcast from Tarah Brach
The theme of the lesson corresponded exactly with the July Rumi Project quote over at the Glitterhood, so I had to incorporate it!
"Why do you stay in prison, br>when the door is so wide open?"
I started out by drawing the girl and the cage in pencil, then painted them using masking fluid before journalling on the background using a white gellyroll pen. I then painted over everything using Twinkling H2O's. When everything was dry, I peeled off the masking fluid, coloured the girl using neocolour crayons and painted the cage with Twinkling H2O's. Lastly I wrote the Rumi quote using a white Uni Paint Marker.
This week's class was from Dina Wakley.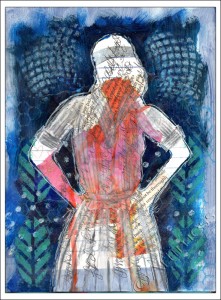 I started the page with a coat of white gesso then added some collaged book pages and old scanned artwork. Next I dripped some ink down the centre of the page and journalled across it, then placed a silhouette mask I created over the top and used acrylic paint to cover most of the page around the mask. I used stencils to add some interest to the background, and lastly, added some detail to the silhouette using a Stabilo All pencil and white acrylic paint. I found creating this page very therapeutic – thank you Dina.