I really enjoyed all the mixed media work I've been doing recently, so I decided to do some more playing with layers, both physical and digital.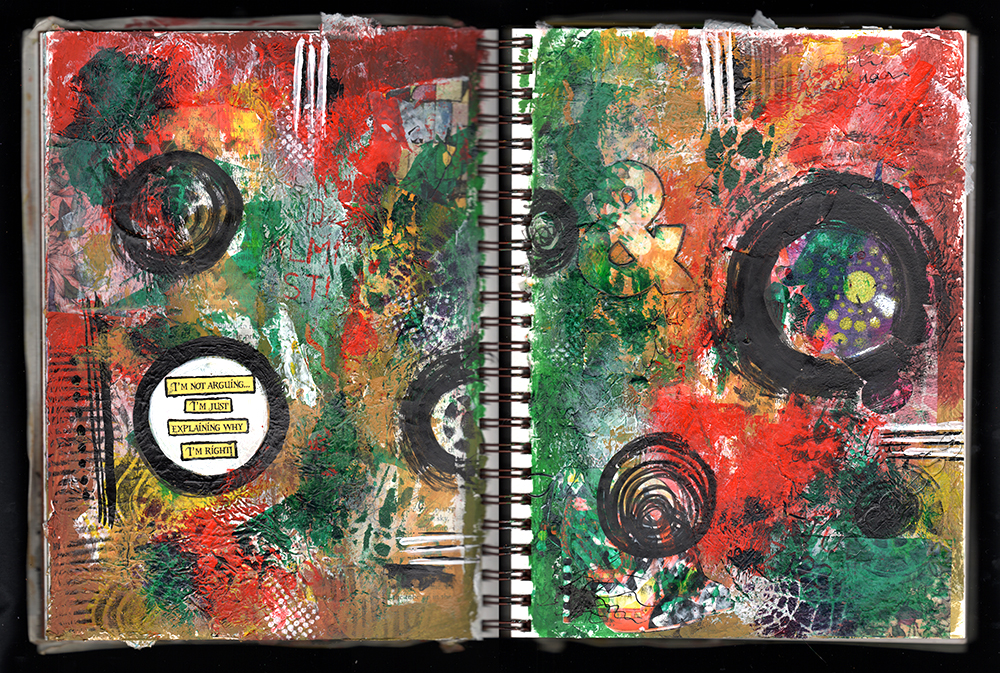 This first image started out as a collage using a mixture of old papers, book pages, old paint stained tissues, and magazine clippings. This was followed by a liberal application of acrylic paint, stencilling, homemade stamps, washi tape, and more collage. The quotation made me smile, as it's the kind of thing I say all the time!
This second image was inspired by some work I did at the weekend on the Person Centred Expressive Arts workshop that I attended run by Dinah Brown and Nuala Eden. It began life as a geometric abstract created using watercolour pencils. Although it was quite colourful, it looked a bit flat, so I gave it the mixed media treatment. I added acrylic paint, stencils, homemade stamps, paint markers and indian ink, then finished it off with some letter stamps and collaged letters.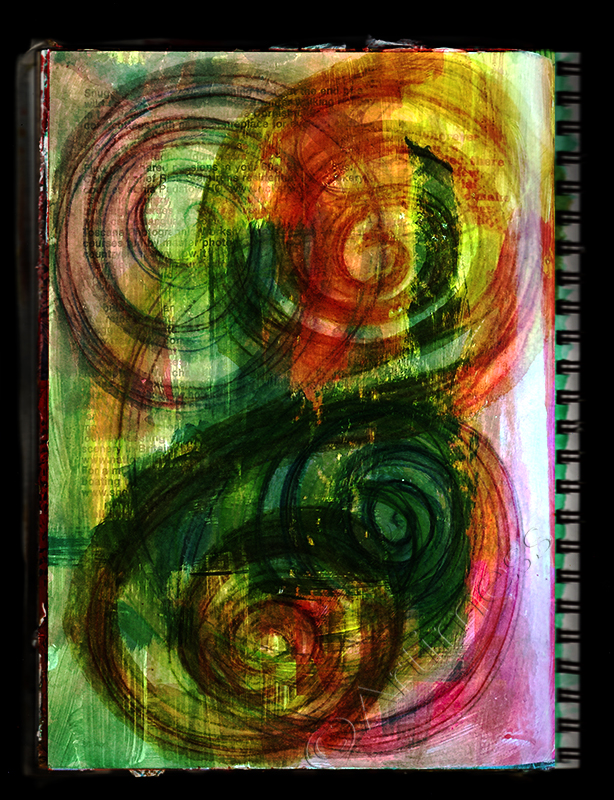 Its been a while since I played with any digital layers, so this last image is a digital blend of two journal pages – a series of swirls drawn with watercolour pencils, and a page created to use up some leftover paint.
Only five days left before the start of 21 Secrets Fall 2015 – I'm really looking forward to working and learning with all the amazing teachers Connie has gathered together.

This weeks Life Book lesson is about celebrating the things we have achieved this year. I am very fortunate in having many things to celebrate – having given up my security to travel, successfully navigating the subsequent soul searching and releasing that went with it, resettling in a new location, studying and developing my spiritual life, completing the first two levels of Reiki training, and getting back into creating every day.
So it gave me great pleasure to create this whimsey with her animal totem, Badger. I drew her in pencil, then coloured her using neocolour crayons. I used some patterned paper to collage her dress and used letter stamps to create the word 'celebrating' in the balls I gave her to juggle with. I added golden stars using star confetti and coloured the background using a neocolour crayon. It looked good but I felt something was missing. So… I used a watercolour pencil to write words describing what I was celebrating around the balls, then blended them into the background using a damp brush. Although it more or less obliterated the words, the extra colour just completed the picture.
Thank you Tam for such an inspiring lesson 🙂

Browsing through blog posts in my rss reader a while ago, I came across a beautiful image called 'Ablaze' by Kathryn Dyche Dechairo. I was totally inspired!
This is where the inspiration took me! I started with a torn magazine collage on watercolour paper. I covered that with a sheet of crumpled tissue paper stuck down with lots of semi-gloss gel medium. When that had dried I used my neocolour crayons to add some colour to the mix. Next I drew the outline of my tree using water soluble graphite pencils and coloured it in using the trusty neocolours. The next part involved covering the tree with hot glue! The last bit was adding the text using letter stamps which I then embossed.
I toyed with the idea of adding some collaged leaves, but decided to keep it as a winter tree for now. Maybe I'll try adding some digital leaves later!