Nearly May – and the weather's still no better. We've had a mixture of snow and hail storms this week! But it hasn't stopped me making art.
I'm really loving working in this A6 journal – it's perfect for those days when the big journal is too intimidating!
I created this spread using watercolour paints, tombow markers, a stencil and a gel medium resist.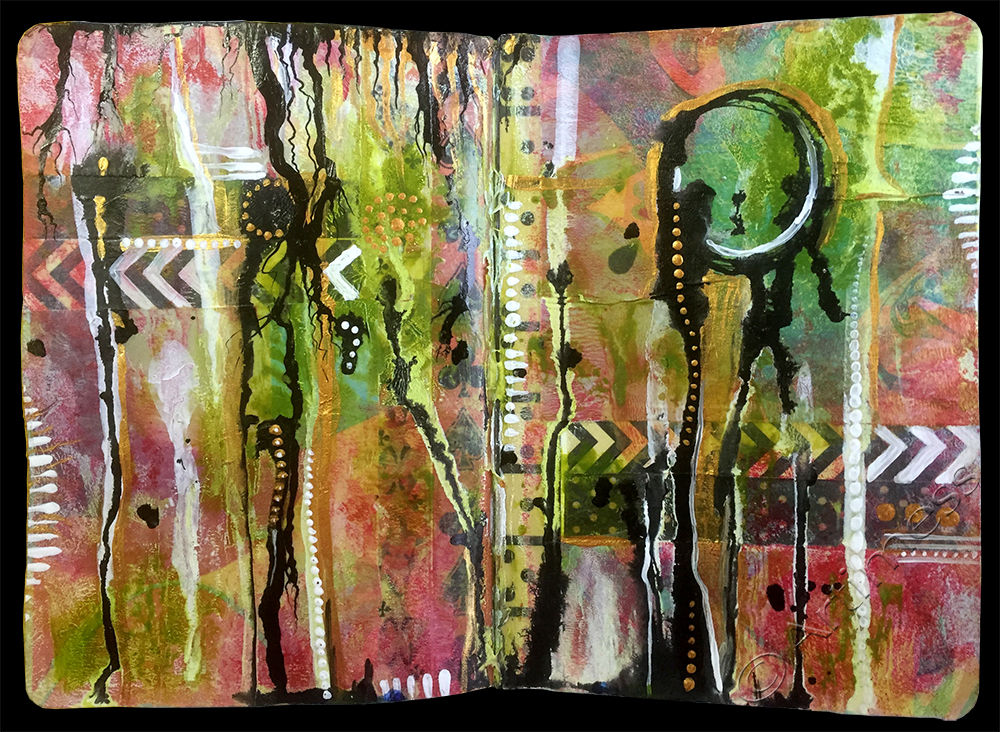 This spread started out as a collage which then got covered up with layers of paint, ink and paint markers. I love the richness of the colours.
I started this next spread by covering the pages with washi tape, then used thin washes of acrylic paint to colour the page and create the 'green girl' on the right.
My 'I Believe' spread was inspired by Effy's Book of Days spreecast about wonder. I really love how it turned out.
In this last spread I decided to play with some rediscovered hand made funky foam stamps that I made quite a few years ago. I had so much fun – I'm planning on making some more stamps to add to the collection!
I've almost finished making the postcards for the iHannah DIY Postcard swap so keep watching for some pictures of those once they're done.
I've not been blogging very regularly of late, so when I got effy's newsletter today and saw that she was hosting a blogalong during August, I thought it would be a good idea to sign up in an attempt to complete thirty posts in thirty days!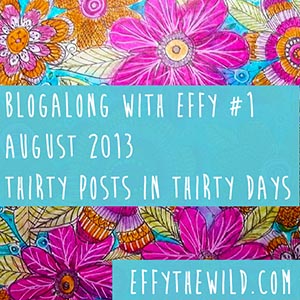 Meanwhile, I've been back to playing catch up with the Life Book 2013 lessons. I started with Danita's great class entitled Key to Freedom. The class started with a link to this cool podcast from Tarah Brach
The theme of the lesson corresponded exactly with the July Rumi Project quote over at the Glitterhood, so I had to incorporate it!
"Why do you stay in prison, br>when the door is so wide open?"
I started out by drawing the girl and the cage in pencil, then painted them using masking fluid before journalling on the background using a white gellyroll pen. I then painted over everything using Twinkling H2O's. When everything was dry, I peeled off the masking fluid, coloured the girl using neocolour crayons and painted the cage with Twinkling H2O's. Lastly I wrote the Rumi quote using a white Uni Paint Marker.
This week's class was from Dina Wakley.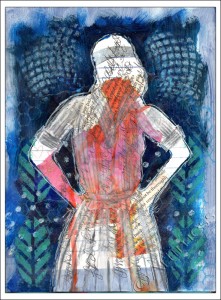 I started the page with a coat of white gesso then added some collaged book pages and old scanned artwork. Next I dripped some ink down the centre of the page and journalled across it, then placed a silhouette mask I created over the top and used acrylic paint to cover most of the page around the mask. I used stencils to add some interest to the background, and lastly, added some detail to the silhouette using a Stabilo All pencil and white acrylic paint. I found creating this page very therapeutic – thank you Dina.

Yes! – I have finally finished my game board for last weeks Life Book lesson from Kelly Hoernig.
I ran out of space on my board to glue my car, so I attached it to a hinge so that it could be flipped to see the board underneath.
I may add some flowers to the roadside later – I can't decide at the moment!
Meanwhile the ingredients list! I used collage, white gesso, acrylic paint, Artist Cellar stencils, a home made mask, some ribbon, a button, a little jute, a uniball eye pen, some digital text, most of a cotton bud, plus some ink and hot glue.
I really enjoyed making this – thank you Kelly for a great lesson.

I'm playing catch up today – it's been a really busy week!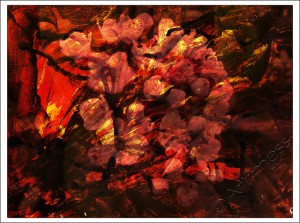 On Tuesday, I created a couple of backgrounds using a mixture of acrylic paint and ink. I scanned them both into the computer then added a photograph of some flowers and blended them to create this image.
On Wednesday I followed a video from Doll Dreams teaching us how to draw these cool doll birds! I tried it out in my everyday notebook using a uniball eye pen, then did the doodle later using my rapidograph pen while I was on the telephone! I didn't plan for them to go together, but I think they do anyway! Do you agree?
Today I had fun playing with all sorts. I started by colouring the page with neocolour crayons, then collaged an embossed sheet which I had coloured with distress ink and the stamped image of the globe which I cut out. Next I added the text which I printed on the computer and coloured using a watercolour pencil and a gold marker pen. Finally, after scanning, I added a bit of digital shading and distressing. I really like how it turned out. What do you think?

I got a bit behind with the Life Book 2012 classes and have only just finished Rhomany's monochromatic lesson from last week.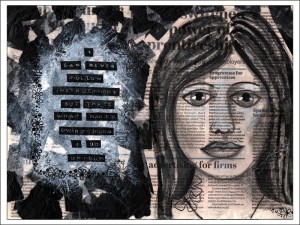 One of the disadvantages to having given away most of my craft supplies at the end of last year (read more about that here) is that I don't have a lot of the supplies that Rhomany used, but I'm very good at improvisation!!
I started off with a collage of newspaper pages then drew the face using a black biro. I didn't have any ink so I used a mixture of graphite pencils and neocolour crayons to colour and define the face. I used a tiny bit of white gesso for the highlights.
On the left hand side of the page Rhomany used black and white scrapbook paper. As I didn't have any of that I used layers of black and white tissue paper to create my pattern. Then I used white gesso to create a lighter area on which to add my words which I created using my dymo machine, black paper and a white oil pastel.
Lastly I added some stamping using a Staz-on ink pad.

At a recent business seminar we were given small gift boxes containing tiny meringues from Head in the clouds. The meringues were delicious … but I have to admit … it was the boxes that appealed to me the most!! I had to find out how they were made and have a go at reconstructing them. This is the result 🙂
I've been so busy working lately that I haven't had much time to get messy so it was a real treat to play with these boxes!