I've just finished colouring in the mandala I drews for the first part of Guada's free Seed of Life course.
I love her classes and the meditative discipline of creating these mandalas. I drew this one in pencil then coloured it using Derwent Inktense Pencils and a graphite pencil. I'm looking forward to starting this weeks lesson.
I so enjoyed making Guada's mandala the other day that I thought I'd have a go at another one.
I used the same template just joined the lines up differently. all the techniques were the same as before – neocolour background, Rapidograph pen and Inktense Pencil lines and shading, but the result is so different. I'm looking forward to starting Guada's free course on the 8th October!
I love Guada's mandalas, and so was thrilled to have a lesson from her as this week's Life Book class. Her instructions are always so easy to follow and even though I started out copying her design the end result is so totally different!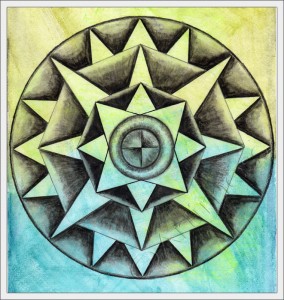 The background was created first using neocolour crayons on copy paper, blended using a watercolour brush. When the background had dried the paper was a little crinkly, so I ironed it flat (much more fun than ironing clothes!) and printed Guada's template onto it. Then following instructions, I created the mandala and coloured it using my Rotring Rapidograph pen and Derwent Inktense pencils.
I just love the result. If you'd like to have a go, Guada is running a free course starting in October called The Seed of Life. Click on the button on my right sidebar for more details. Thank you so much Guada 🙂