I knew it was a mistake mentioning how well I was doing with my faces yesterday – I'm now officially running late! But I did finish this piece for the second lesson in Carolyn Dube's Use Your Words workshop. This workshop is just so much fun!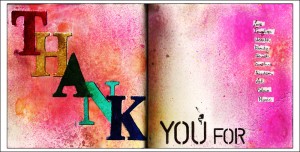 I used my home made stencils combined with Twinkling H2O's to create the word 'Thank' then used some plastic stationery stencils to create 'you and for'. I hand wrote my thank you list using a uniball eye pen. Carolyn's supply list called for Dylusion spray inks for the next stage which I didn't have, so I made my own using drawing inks in my ranger mini misters! I think they worked quite well.
Hopefully tomorrow I'll manage to catch up with my faces. Watch this space!

I treated myself to a set of drawing inks a while ago and created this background with them.
I played around with it a bit to give it a bit more depth and have used it a few times already, including on the inside cover of my new notebook.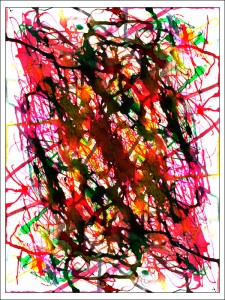 But you know me – never miss a chance to do a bit of blending, so when I made this star image on my iPad, I thought I'd just have a go and see what happened.
I added it to the ink blots, did a lot of copying and blending …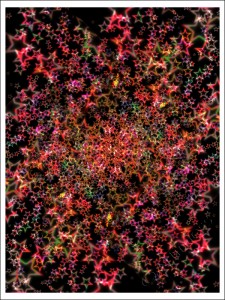 … and ended up with this! What do you think?