Finally! I've at long last finished projects #5 and #6 in Kate Crane's 21 Secrets 2013 class.
I started project #5 with a collage of printed artwork covered with acrylic paint. I used handmade stamps to add more depth then added a computer printed quotation and some grungeboard keys covered with metallic flakes. Lastly I added a metal key.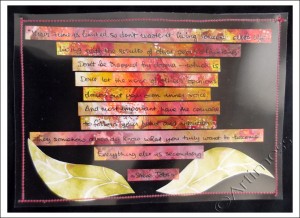 I just loved Kate's acetate sandwich for project #6 but had great problems getting my sandwich contents to stay still. In the end I decided to use some double sided tape to keep everything in place! The quotation is handwritten on strips of cut up painted background and the leaves are cutout prints of handmade stamps. Great fun to do, and so effective!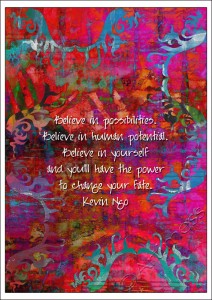 Last but not least, I thought it was time I played with digital blending again! The background is a digital blend of an artwork scan to which I added a blend of a digital brush I created from a hand drawn doodle. I really love this quotation – it's so true!

Today I felt like having a digital day. I started with an image of a feather and turned it into a digital brush. Then I played with brush settings, altering its spacing, randomising it, and flipping its axes. I put each new variation on a new layer then added coloured layers and blending into the mix. Finally I topped all the layers off with a leaf print image taken from my stash of images created in September. Then I played with some serious blending!
This is my favourite of the resulting images, but they all looked so nice that I thought I'd try something different. I created a window containing bits of all of them.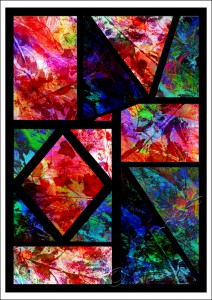 Do you like it?