We seem to have bought a lot of books just lately, acquiring as a by-product lots of those cardboard sleeves that books come wrapped in. So when I looked at Kate Crane's 21 Secrets 2013 Class and saw that it was about trying out lots of different techniques, I thought the book packaging would make an excellent base for these projects.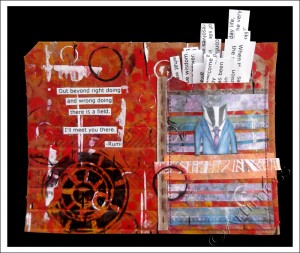 For the first project I started off using spray inks and stencils. Because I sprayed them directly onto the cardboard, the colour was not as bright as I was hoping for. I could have painted over with gesso and started again but I decided to go with it and see what happened. Next I added acrylic paint using a variety of stencils, bottle tops, cards and stamps (including one of my home made foam stamps). I decorated a "dinner money" envelope with strips of old scanned artwork and stitched it to the board then added some ribbon and some more stamping. Lastly I added some cut out quotations to the envelope, and stuck one of them to the card.
For the second project I started off with some old sheet music which I glued to the cardboard. I covered this with acrylic paint, then used a selection of hand made foam stamps to create more interest. I finished it off with a collage of a painted stamped image and a die cut butterfly joined using a tiny split pin, and a quotation which I outlined using a Pitt artist pen.
Four more projects to go – this is fun – I'm off to do some more. See you later!

Today's piece underwent radical transformation in it's early stages. The first layer was a complete disaster – but it did add some texture to the piece.
It all started when I emptied my pencil sharpener and discovered amongst the wood shavings remnants of lots of beautiful colours of water soluble pencil lead. I had the bright idea that if I tipped them onto the page and added water, I would get a lovely rainbow effect. It didn't work – what I actually got was a dirty brown/grey sludge! So much for bright ideas!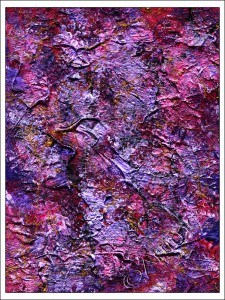 To cover up the mess, I added a thick and lumpy layer of gloss gel medium, then started adding layers of acrylic paint. The first paint layer was just added with a brush. Next I added some lines and shapes using a variety of implements including bubble wrap, old credit cards and bottle tops. The next layer was a black outline followed by a layer of coloured gel medium. Some more bubble wrap splodges followed finished off with a healthy dose of gold Krylon Webbing Spray.
I have no idea what I'll end up using it for, but I love the colours and the textures it has ended up with!

Yes!! … I've done it! I've linked and transferred all the posts, images and comments from my free WP blog! I couldn't believe how simple it was 🙂 Any way … enough of my rambling …. let's have some more creativity!!
Last week, my daughter left home to start her life at Greenwich University. I decided a 'Welcome to Your New Home' card was a bit too normal, so to mark the occasion, I made her a Mixed Media Collage picture for her wall.
I started off with an old piece of mount board left over from my own days at Uni not that long ago. I painted it with white gesso to give me a good base to work on then coloured it using a three or four colours of acrylic paint and various techniques. My next step was to arrange the images into an interesting shape which I then covered with more acrylic paint to make them blend in. I mounted the central image onto some corrugated board and stuck it in the middle, then made the frame from old bottle tops.
Delivering the picture, along with a car load of 'forgotten' bits, at the weekend gave me the opportunity to take my camera out round the O2 on Saturday night. With my normal penchant for the unusual .. I was quite pleased with these detail shots taken inside the dome.
I love getting out with my camera – it provides me with a wealth of original images that I can turn into artwork for all kinds of uses.