Yesterday, Christmas came early! I got these Texture Stencils from "artistcellar" in the post! So much fun!
I started out by adding colour washes with Inktense pencils to some watercolour paper to create an under layer to the stencils. I used the Inktense pencils because once they've been activated they become permanent. When the colour wash layers were dry I got out the acrylic paint and started playing with the stencils! It was very messy – but the stencils are great!
I have no idea at the moment what I'll use these backgrounds for, they'll probably get obscured by additional layers of something else, but for now I'm just enjoying them as they are!

I started today by painting a couple of backgrounds using derwent watercolour pencils, a blue one and a yellow/green one. While I was waiting for them to dry I felt prompted to draw a female face on the yellow/green background. So here she is – my Green Goddess!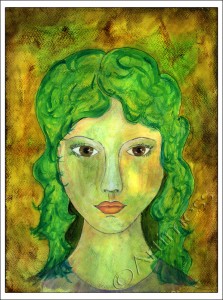 I drew her face in pencil, outlined it using a uniball eye pen, and coloured it using neocolour crayons, leaving quite a lot of the background colours still showing through. Lastly I darkened the background using distress ink pads.
I have no idea where her face came from, but I'm quite pleased with the finished result.