Today's piece underwent radical transformation in it's early stages. The first layer was a complete disaster – but it did add some texture to the piece.
It all started when I emptied my pencil sharpener and discovered amongst the wood shavings remnants of lots of beautiful colours of water soluble pencil lead. I had the bright idea that if I tipped them onto the page and added water, I would get a lovely rainbow effect. It didn't work – what I actually got was a dirty brown/grey sludge! So much for bright ideas!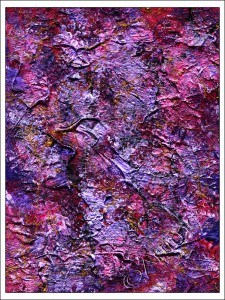 To cover up the mess, I added a thick and lumpy layer of gloss gel medium, then started adding layers of acrylic paint. The first paint layer was just added with a brush. Next I added some lines and shapes using a variety of implements including bubble wrap, old credit cards and bottle tops. The next layer was a black outline followed by a layer of coloured gel medium. Some more bubble wrap splodges followed finished off with a healthy dose of gold Krylon Webbing Spray.
I have no idea what I'll end up using it for, but I love the colours and the textures it has ended up with!