I've been playing with the iFontMaker app again – it's just so much fun!
Today I used a stylus instead of my finger, so I got slightly less wobbly results than last time. This font is called "Handwritten" and you can download it by clicking HERE if you like it 🙂
I created the background using my favourite Inktense pencils on water-colour paper.

Today I thought I'd have a break from working on water-colour paper and play with some glossy white card. I got some new distress ink pads and was itching to try them out!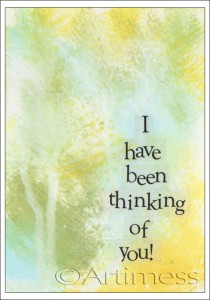 I applied the ink to the card using a pad of tissue, then sprayed the card with water to blend and create runs. I then blotted it with a clean tissue to dry it which added texture to the colour. When I looked at the result I thought it looked like a tree on the left. The words were cut from an old clear sticker I found when rummaging through my cupboard for something else, but I thought they fitted nicely with the image.