Today I've been having fun trying out some new techniques and ideas.
I found this first technique in the latest copy of Craft Stamper magazine.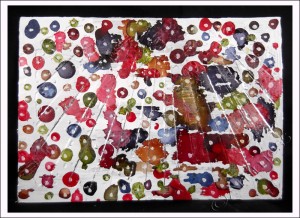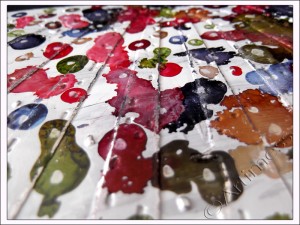 As usual I didn't have all the suggested ingredients, so I improvised! I started by gluing a piece of baking foil to a piece of recycled packaging card, then coloured the foil white using a Uni Paint Marker. When the white marker was dry I dripped spots of different colours of alcohol ink onto the white then added white marker spots on top of the colours. As you can see – some of my spots spread a little! When all of that was dry, I embossed it using an embossing folder then sanded the edges of the embossed edges to allow the foil to shine through. Mine's not quite as dramatic looking as the example in the magazine, but I'm still impressed with the result.
The inspiration for my second piece came from these two posts (Dimensional Paper Cut Cards and Watercolored Dimensional Paper Cut Cards) from Julie Fei-Fan Balzer. I have always loved creating pop-ups but have normally made them as add-ons to the page. The idea of cutting them directly from the page seemed too intimidating. Seeing Julie's beautiful work inspired me to have a go.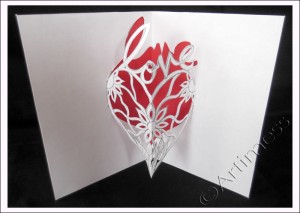 After a few rather disastrous efforts where the middles fell out altogether or the design folded into strange places, I finally got it worked out! I drew the design using pencil, then cut it out very carefully using a pair of tiny, very sharp pointed scissors. I chose a red card to back it and stuck them together using low tac double-sided tape. I didn't erase the pencil lines as I couldn't decide whether or not to outline the shapes. What do you think? I'm really pleased with how this first one turned out and am itching to try another one. As Julie says on her blog – they are very addictive!

When I started AEDM (Art Every Day Month) this time last year, we were in the process of selling the house prior to setting off on our travels. It's been a very exciting year, we've experienced a lot and had so much fun along the way! Now – one year later, we have settled near the sea in North Yorkshire. I'm really looking forward to taking part in the challenge again.
I created todays art for this weeks Life Book class from Tracy Verdugo.
As I completed each part of the process I was reluctant to go on to the next stage – I liked it as it was, so I scanned the four stages. The first stage above started off with journalling using wax crayon. I was supposed to use oil pastel but I didn't have any! The idea was to create a resist – I thought the wax crayon would work, but it didn't seem to work at all! I added acrylic paint on top of the journalling.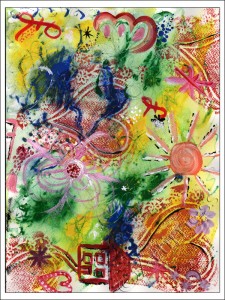 The next layer included stamping done using a home-made foam stamp with distress ink, and some more acrylic paint.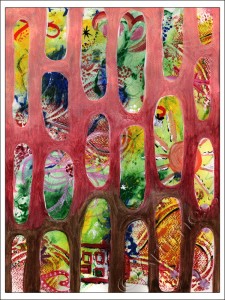 More acrylic paint for the next layer,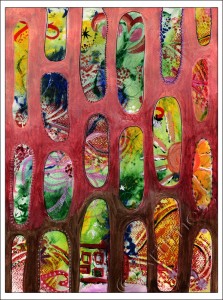 and finally a doodle layer. I doodled using a selection of gel pens, sakura soufflé pens, uni paint marker, and rotring rapidograph pen then added some additional colour added using neocolour crayons.

Here's my version of another Seed of Life mandala from the talented Guada.
I had a lot of fun making this one! I drew it in pencil then coloured it using a mixture of Derwent Inktense Pencils, Lumiere paint, acrylic paint, graphite pencil, uniball eye pen, and uni paint marker. The colour was built up in layers which gives it extra depth. Thanks for another brilliant lesson Guada!