Doesn't the time just fly by! I can't believe it's a week since I last posted here. In between a very special birthday, the celebration of which got delayed by snow over the entire country, followed by a nasty tummy bug which laid me out for a day, I'm only just catching up with myself now!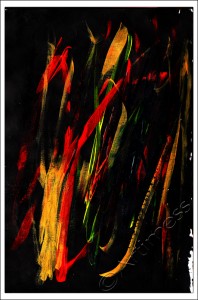 It all began when I had some leftover paint from creating cards for this week's Life Book lesson. As usual I painted a page in my notebook with what was left of the paint. Then the postman brought me some very special paint that I've been coveting for a very long time – some Golden fluid acrylic paint! Well – I just had to try that out didn't I? Isn't it lush!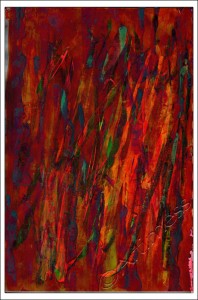 With two pages of abstract paint marks scanned I just had to play digital! So much fun and such beautiful colours!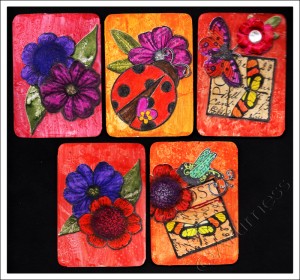 Today I finally finished my game cards, the first part of Kelly Hoernig's Lesson from Life Book this week.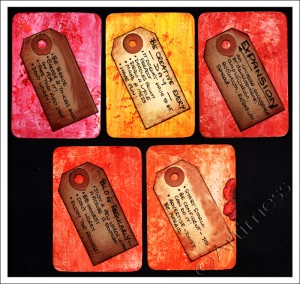 I created my own playing card size cards using glossy white card, then painted them using acrylic paint (the old paint!). I used collages of stamped images coloured using watercolour pencils to decorate the front of the cards, and luggage tags coloured using distress ink pads to write my goals on the back. I obscured the titles of a couple of them as I am not ready to share them at the moment.
So now I'd better get back to completing the rest of Kelly's Lesson! I hope to be able to post it in the next day or so.

Once again I'm playing catch-up! I've been having so much fun getting messy, I just haven't had the time to post the images!
On Friday I played with some embossed flowers, trying to colour them using a couple of ink pads. It didn't work quite as I planned. Instead of nice clean colour on the raised areas, I ended up with a very dirty, grungy looking image (and a very dirty grungy me, covered in ink!). Not being one to let these things deter me, I stuck the image to a page in my notebook and created a grunge border round it using acrylic paint and an old credit card (getting covered in paint this time!). I think it looks alright now. What do you think?
Yesterday I finally got around to completing this week's Life Book Lesson from Monica Zuniga. I was a bit apprehensive when I watched the video, but once I got started I had so much fun (I got covered in paint and glue with this one!)! I started by creating a painted background, but once I created my doll and put her on it she disappeared, so I decided to use a plain black background. I created the doll using a collage of a mixture of stamped and embossed images, with the exception of the face which I scanned from a magazine and altered digitally, then coloured her using watercolour pencils. I'm really pleased with the way she turned out. Do you like her?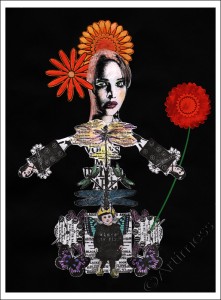 Today I thought I'd play digital and mess free! I started with a photograph of sand patterns I took last week, then added a scan of an acrylic paint background I made a while ago and blended them together.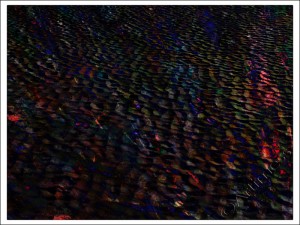 I really love how the colours draw you into the image.