I have always loved pop-up cards so this Life Book lesson from Mitsi B really appealed to me, and I loved every bit of the process of making it.
I started by journalling over both sides of the paper using a water soluble graphite stick, then activated it to stop it bleeding. I added big blocks of colour using acrylic paint, then splattered and dripped a bit over it all.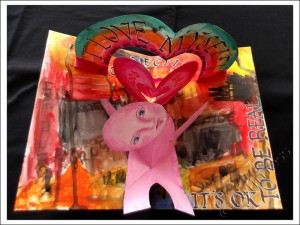 Next I made the pop-ups for the inside of the card. Owing to my inability to listen to/read instructions, my card is slightly smaller than instructed so I had to modify the rainbow pop-up to make it fit! I painted the shapes using acrylic paint, stuck them in and added more journalling using calligraphy pens from Asda and an Edding 780 paint marker to outline the letters.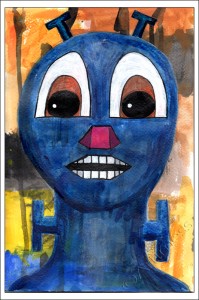 Finally I painted my monster on the front cover using acrylic paint. Don't you think she's lovely? I think this has been one of my most favourite lessons so far this year. Thank you so much Michelle!

I have been following 'Thurdays with Earl' on the Jessica Sprague website for quite a few weeks now and have really enjoyed the different lessons he has taught. Last week Earl taught us how to make Celtic Knot Designs, something I have wanted to have a go at doing for ages!
So I drew my grid, then carefully followed the instructions (except I changed the shape!) with this result ….

But when I looked at it … it was just crying out to be blended in with something else. So I tried it with this …
Then I just had to do something messy after all that concentration. I used a pop-up butterfly template from
RobertSabuda.com
then got out some newspaper, clingfilm, alcohol ink and blending fluid. If you haven't tried squirting alcohol ink onto cling film… you really should!! It's very messy – hence the newspaper, but if you lay your paper on top you get some fabulous results! This is mine … framed of course by my Celtic Knot Frame!!
I have great plans to try out some more complex knot designs … so watch this space 🙂