Being without any internet for the past few days, I have had more time to get messy with paint and gel medium! Collage Lady is another catch up from the Life Book Course.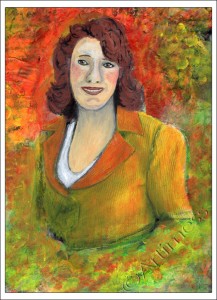 Loosely following Mystele's week 22 lesson I created a collage from torn magazine pages using a picture of a woman as the central focus. I then used a mixture of pastels, gel medium, neocolour crayons, journaling and acrylic paint to add colour and depth to the work. I must add that the painted lady bears virtually no resemblance to the collaged image underneath!
I had great fun making this piece. Thanks for the lesson Mystele and for the new techniques I learnt!
Yes … I know today is Thursday … I'm a little behind this week! But I was inspired by Donna Downey's Inspiration Wednesdays post to create this collage.

I created the background back at the beginning of April and scanned it into the computer to use as a base for some of my designs. To be honest … I had forgotten all about it until I came across it tonight when I was hunting through a pile of paper looking for something to use as the starting point of my collage. I've just started playing with torn newspaper in my designs, and that was where I began this picture. The rest just seemed to follow!! The sails and flowers were added with tissue paper and I did some finger painting to blend the collage into the background.
I've been really messy with glue and paint and glitter …. but I think the results were worth it! I scanned the results, then blended them to create these images.
I was inspired by this episode of "Thursdays with Earl" to make this mini-book. It's made from a single sheet of 12×12 card and I have covered it with a mixture of papers I have designed and tissue paper!
My brother and I signed up for a free Skype account each last week. (Free video/telephone link over the internet with other Skype users) It's really great … but sometimes the video link can be a bit … well just odd! Here's a screen shot of  a video image when it was playing games:
I'm busy getting ready for tomorrow night's craft class at the moment – a messy one – using paint to create interesting textures on tags to attach to the heart books we started making last class. Hopefully we'll get the books finished as well. This is what mine looks like so far 🙂
What else have I been up to? … playing with distressing ink and spritzer bottles …
… as well as string, glue and paint …
… altogether a wonderfully messy time!