Happy New Year to you all!
December flew past, taken up with finishing my dissertation followed by a really relaxing family Christmas – it seems like ages since I last posted. But I have been busy creating!
It's become a habit over the last few years to use this workbook from Susannah Conway to review the passing year and look forward to the New Year, including choosing a word to represent the coming year. This year I chose 'Emergence' as my word and placed it in the mandala from the workbook.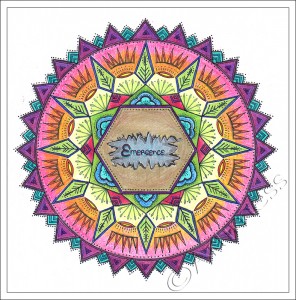 After I uploaded it, I just couldn't resist pushing the invert button to see what happened. I'm not sure if I like it. What do you think?
A couple of days ago, I was inspired to create this large painting by these words from Leonard Cohen's song 'Anthem':
"…There is a crack, a crack in everything
That's how the light gets in."
Today, I couldn't resist the call of a ball of yarn in my supply box. It was calling to be made into a doll. This is the result!
I devised this method of creating a doll from yarn last month when I was playing with a few scraps laying on my desk one evening. With the exception of the head, which was stuffed with a small ball of tissue to give it shape, the entire doll is made from wool wound round on itself. This is the original that I made last month.
They're so simple to make, and have endless possibilities from a therapeutic point of view which I'm working on developing at the moment.

It all started with a piece of white paper and four bottles of ready mix poster paint in blue, yellow, purple and fuscia pink…
…I squirted the paint into the paper, folded it in half, and squigged it everywhere! This photo was taken when it was all gleaming and wet. As soon as it was uploaded to the computer, I just couldn't resist playing…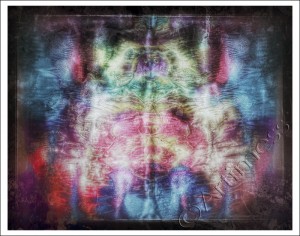 …and this was the first result created using the Snapseed app. I think it makes it look like a piece of beaten up metal. What do you think?
Next came the serious photoshop stuff…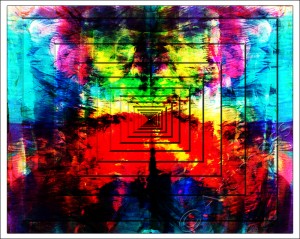 …and this is what evolved! I called it "Looking for the Light". You'll have to look at the large image to see the light at the end of the tunnel which reflects the meaning of this image.
Which one do you like best?

I've been a bit caught up in the mechanics of website maintenance for the last few days and have been neglecting my mess-making creativity! Thank goodness for the Monday Life Book lesson from Dion Dior this week – it was just what I needed to get back into mess making again!
Starting with a piece of black paper, I drew a handprint and mini mandala using a white watercolour pencil, then shaded between two using an assortment of dry white media which included a neocolour crayon, a soft pastel and a jelly roll pen. It was great fun and I think I'll be playing with this concept some more over the next few days!
Just to add a bit of colour to the post, I had to show you this.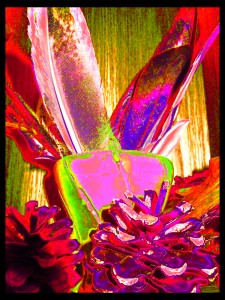 It happened when I was preparing this image for uploading yesterday. I accidentally pressed a few extra buttons … well maybe I did mean to press them … but it looks rather pretty, don't you think?