This weeks Life Book lesson is about celebrating the things we have achieved this year. I am very fortunate in having many things to celebrate – having given up my security to travel, successfully navigating the subsequent soul searching and releasing that went with it, resettling in a new location, studying and developing my spiritual life, completing the first two levels of Reiki training, and getting back into creating every day.
So it gave me great pleasure to create this whimsey with her animal totem, Badger. I drew her in pencil, then coloured her using neocolour crayons. I used some patterned paper to collage her dress and used letter stamps to create the word 'celebrating' in the balls I gave her to juggle with. I added golden stars using star confetti and coloured the background using a neocolour crayon. It looked good but I felt something was missing. So… I used a watercolour pencil to write words describing what I was celebrating around the balls, then blended them into the background using a damp brush. Although it more or less obliterated the words, the extra colour just completed the picture.
Thank you Tam for such an inspiring lesson 🙂

When I started AEDM (Art Every Day Month) this time last year, we were in the process of selling the house prior to setting off on our travels. It's been a very exciting year, we've experienced a lot and had so much fun along the way! Now – one year later, we have settled near the sea in North Yorkshire. I'm really looking forward to taking part in the challenge again.
I created todays art for this weeks Life Book class from Tracy Verdugo.
As I completed each part of the process I was reluctant to go on to the next stage – I liked it as it was, so I scanned the four stages. The first stage above started off with journalling using wax crayon. I was supposed to use oil pastel but I didn't have any! The idea was to create a resist – I thought the wax crayon would work, but it didn't seem to work at all! I added acrylic paint on top of the journalling.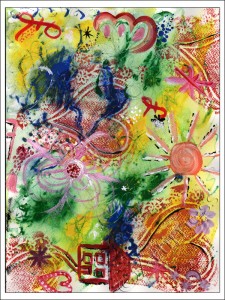 The next layer included stamping done using a home-made foam stamp with distress ink, and some more acrylic paint.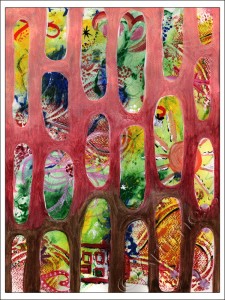 More acrylic paint for the next layer,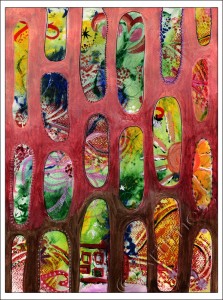 and finally a doodle layer. I doodled using a selection of gel pens, sakura soufflé pens, uni paint marker, and rotring rapidograph pen then added some additional colour added using neocolour crayons.

Playing catchup with the Life Book Course, today I followed Tam's Freehand Mandala class from week 36.
I hand drew it in pencil, then coloured it using Derwent Inktense Pencils. When I had got to this point with colouring it, I couldn't decide whether to colour the rest of the background in or to leave it as it was. So I scanned it in to the computer and added some digital backgrounds to see what they looked like. This is my favourite – it really seems to make the colours pop!
After all that, I decided to leave the original as it is. But it was fun playing.

I really enjoyed this weeks Life Book lesson with Samantha Kira Harding. Each layer had its own special meaning and took courage to cover and move on. But I'm so glad I did – the finished piece has so much depth.
This is the first scan taken after the first three layers. Layer one was journalling done using Derwent inktense pencils. This was followed by a layer of white Gesso which made all the journalling colours run and blend together creating a lovely soft background colour. Layer three was a mixture of alcohol inks shaken from the bottles to create nice ink splodges which I swooshed around with a tissue to spread the colour further, and a lino cut which I stamped over the top using distress inks.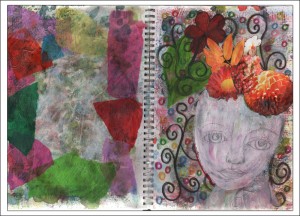 This next scan – done on my lovely new A3 scanner – was taken after the next two layers. It took a while for me to pluck up the courage to add a layer of Gesso to everything and even more courage to start doodling over the top of it, but I'm glad I took the plunge! The doodling on the right page was done using graphite pencil and neocolour crayons followed by a flower collage and face outline drawn in pencil.The left page got a collage of tissue paper.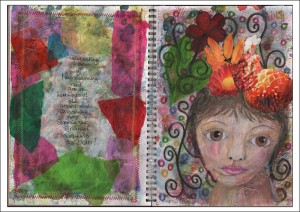 The final scan shows the finished piece. The face on the right page was painted using neocolour crayons. The left page had a machine stitched border added and journalling done with a gel pen. It took a few days to complete, but I'm really pleased with the end result. Thank you so much Samantha!

We've been battling with our internet provider this week and have been without service for nearly two days! It's just come back up so I'm making hay while the sun shines!
I wasn't in the mood for crochet (this weeks Life Book lesson) so I thought I'd play catch up with one of the previous lessons I've not looked at yet! I chose week 25 by Juliette Crane.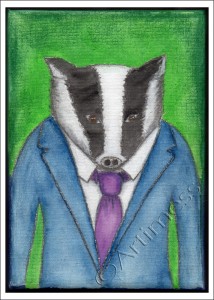 I loved every minute of doing this picture of my totem animal – so much so that I kind of forgot to follow the instructions and ended up with something rather different from Juliette's wonderful whimseys! I drew the outline using water soluble graphite sticks, then coloured Badger in using neocolour crayons. I used the neocolours to create the background, then added some distress ink to add a bit of depth.
Last weeks life book lesson with Tam was to create a mixed media collage using paper and material celebrating where you are now using no more than two words. I love working with material, so I just had to have a go at this lesson! I chose Spiritual Growth for my two words as above everything else, that represents where I am right now.
I started off with a collage of images torn from magazines. Then I added an assortment of material pieces most of which were more or less transparent so they just added colour while still allowing the paper layer to show through. Next I added the images and words which I printed out using my computer. I used a distress ink pad to help the paper to blend in with everything else. I added some hand stitched crosses and buttons and finished off with some machine stitching to link everything together.
I'm quite pleased with the way it turned out. Its very tactile – I love the feel of all the stitching! Thank you Tam for another great lesson.
I love Guada's mandalas, and so was thrilled to have a lesson from her as this week's Life Book class. Her instructions are always so easy to follow and even though I started out copying her design the end result is so totally different!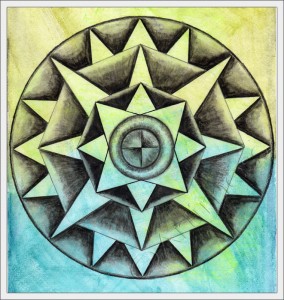 The background was created first using neocolour crayons on copy paper, blended using a watercolour brush. When the background had dried the paper was a little crinkly, so I ironed it flat (much more fun than ironing clothes!) and printed Guada's template onto it. Then following instructions, I created the mandala and coloured it using my Rotring Rapidograph pen and Derwent Inktense pencils.
I just love the result. If you'd like to have a go, Guada is running a free course starting in October called The Seed of Life. Click on the button on my right sidebar for more details. Thank you so much Guada 🙂