Still playing catch up with Life Book 2012, Jodi Ohl showed us how to make these embossed foam embellishments – really cool!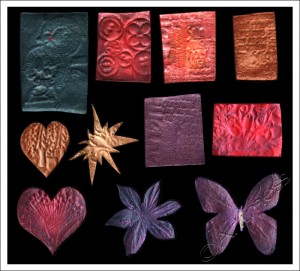 They really are very simple and cheap to make and can be made into simple embellishments, buttons or anything else you can dream up! Heat up the foam with a heat gun and then press a rubber stamp into it to emboss the pattern. You need to press very hard, and the foam is quite hot so I don't think it will work with clear stamps (they don't like heat, and tend to go all squadgy if you press too hard). If you don't like the result just heat and try again. When you are happy with the result you can colour them any way you want. I used a mixture of acrylic paint, perfect pearls and gel medium to give a nice glossy finish and seal them.
Like the backgrounds, I'm not sure what I'm gong to use them for yet … but keep watching … they'll turn up on something soon!

Phew! – that was one busy week!
But I'm back now and still playing catch up on the Life Book 2012 course – I'd better get a move on as I've just signed up for the 2013 course!
This is my interpretation of Adriana Almanza's Hope Fairy lesson from Week 31. I had so much fun – I hope you like her!
I drew the fairy in pencil then outlined her using a permanent marker pen. Next I painted the background using acrylic paint. I coloured the fairy using a mixture of Caran d'ache watercolour pencils, acrylic paint and white paint markers. I stamped the flowers onto white paper using a black staz-on ink pad and coloured them using Caran d'ache watercolour pencils, cut them out and collaged them into the picture. Lastly, I added the text digitally after scanning the picture.

After the tension of posting something new every day it was nice to take things at a bit more leisurely pace when following last weeks Life Book 2012 lesson with Adriana Almanza. I was a bit apprehensive about it before I started because I've never been good at stylised faces like these – but I surprised myself and had a ball. Thank you for a great lesson Adriana, I learnt a lot!
Adriana provided us with a template to use for the face, but I decided it would be much more fun to draw my own. My witch has a much longer face than the one Adriana supplied – but that's how you learn! I coloured her face using ordinary water colour pencils (the Intense one's would've been a bit bright) then blended the colours using white acrylic paint – something I learnt from Adriana. I used acrylic paint to colour her clothes and neocolour crayons to colour the central background. I created the border using a mixture of collage, acrylic paint and marker pens.
I'll definitely be having a go at some more of Adriana's classes.

I got a bit behind with the Life Book 2012 classes and have only just finished Rhomany's monochromatic lesson from last week.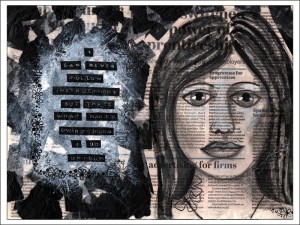 One of the disadvantages to having given away most of my craft supplies at the end of last year (read more about that here) is that I don't have a lot of the supplies that Rhomany used, but I'm very good at improvisation!!
I started off with a collage of newspaper pages then drew the face using a black biro. I didn't have any ink so I used a mixture of graphite pencils and neocolour crayons to colour and define the face. I used a tiny bit of white gesso for the highlights.
On the left hand side of the page Rhomany used black and white scrapbook paper. As I didn't have any of that I used layers of black and white tissue paper to create my pattern. Then I used white gesso to create a lighter area on which to add my words which I created using my dymo machine, black paper and a white oil pastel.
Lastly I added some stamping using a Staz-on ink pad.

Today I played catch up with my Life book 2012 classes. I completed Lesson 29 from Jodi Ohl. The lesson started with a positive letter to my younger self which I then tore up and used as the basis for the piece. For the next layer I added some printed tissue paper followed by a thin wash of white gesso. Then I stamped a border using home-made foam stamps and acrylic paint – messy!
When it was all dry I drew the face using pencil and coloured it using a mixture of acrylic paint, gesso, Inktense pencils, uniball pen and pencil. Finally I added a set of positive affirmations around the edge.
I had so much fun making this and found the personal development element very useful – thank you Jodi!