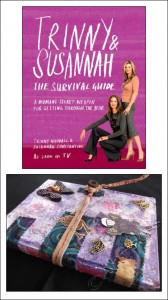 Ever since I saw Rae Missigman's 'Go Green' class on 21 Secrets 2013 I have been longing to have a go at making a recycled journal following her instructions. I have been an avid recycler for many years and have made use of many books in art projects, but I have never before taken one apart and reconstructed it, so this was a new adventure for me! My first step was a trip to my local Charity Shop to find a suitable hard back book to turn into my journal. These are the before and after pics!.
As usual I couldn't quite bring myself to follow all the instructions…
… plus I didn't have all the recommended ingredients, so I improvised a bit! The biggest change I made was to the binding. Because I had 7 signatures and my pages were quite heavy, I thought it better to use a different binding format to the one Rae taught. I used this brilliant tutorial from Sarah to learn how to do the binding the way I wanted.
But I digress! Having chosen and purchased my book for the princely sum of £1, the first task was to very carefully take it apart, removing all the signatures. Next came the fun part of decorating the cover, followed by the much trickier part of reassembling it into a book again! I started the decorating process with lots of layers of gesso, clean and painty tissues, and coloured inks dripped and sprayed. Once I was happy with that I added some scraps of material which I machine stitched very carefully to the cover – I only broke one needle in the process! Then came the embellishments which I added using hot glue and a material wrap to keep it closed. I am always envious of my American peers who seem to be able to purchase waxed bookbinding thread in assorted colours quite easily. I always end up waxing my own thread – and getting melted wax all over my cooker! With most of the book pages safely restitched within the covers I moved to inside the book.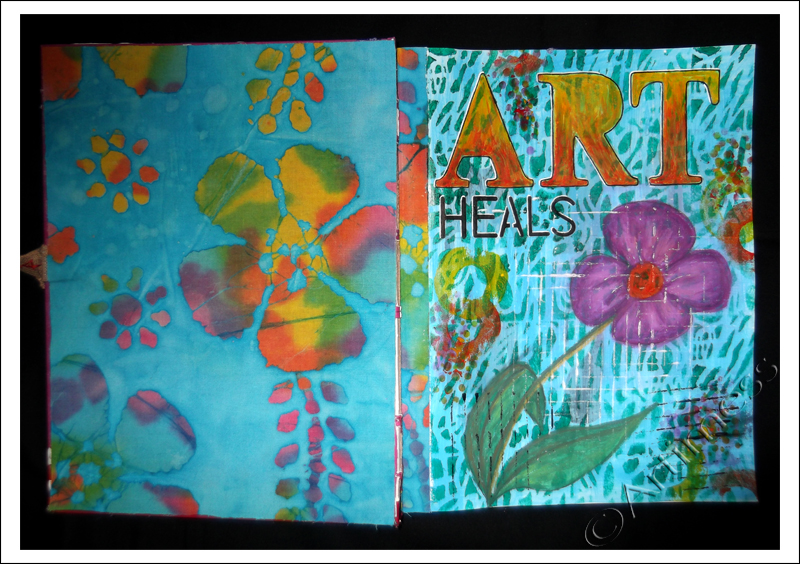 I covered the inside of the covers back and front with fabric which I stuck in using iron on fabric glue, then set to work creating a title page for the book. I started off with a layer of gesso, then added several layers of acrylic paint using a mixture of stencils and assorted stamping implements. I used letter stencils to create the titles and neocolour crayons to draw the flower.
I'm really pleased with the way the book has turned out and can't wait to work on some more pages! Thank you Rae for a really inspiring Class.

Now that February is over and my Mystery Musee has safely received her gifts, I can show you what I've been up to! I took part in the Artella Mystery Muse 2013 Project; you submit your details and a word which sums up the year for you and get given in return a "Mystery Musee" person to send two hand made gifts to in the month of February. I had great fun making gifts for my "Mystery Musee".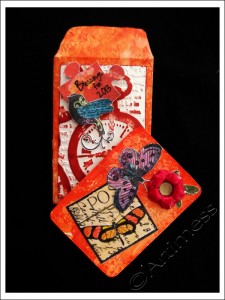 The first gift I sent was this collaged playing card with her word for the year on the back enclosed in the altered envelope.
For her second gift I made this canvas board collage using letter stencils and a quotation from Maya Angelou.
In return, I received 2 beautiful gifts from a different person who had been given my details. It was so lovely to receive surprise 'snail mail' and inspirational to see another persons work in this way. I will definitely be signing up for this challenge again next year, and will be looking out for other hand made/artwork exchanges during the rest of the year. Do you know of any?

I have managed to get behind with virtually all my self-imposed deadlines at the moment, so I have decided to be very brave, not to even try playing catch up, but just to do the things I feel drawn to! So… today I finished last Friday's assignment from Carolyn Dube's Use Your Words workshop. This is such a cool workshop!
The first part of the assignment was to create a background sheet for cutting up. I used homemade letter stencils, white gesso, an Artist Cellar letter stencil, and gel medium. After I scanned it, I cut it up into five pieces.
The second part was to create a journal page incorporating a collage made using a piece cut from the background sheet. My collage is made up of a hand cut tag painted with acrylic paint, the piece of background sheet, two scraps of material, some paper lace painted with acrylic paint, and a bird cut from foam and coloured using acrylic paint. The words were added using a uniball eye pen – which is supposed to be waterproof – but as you can plainly see, didn't survive the background sprays without joining in the colour runs! (the sprays were ink and twinkling H2O's). But I wasn't too upset as I think the runs just add to the feeling of movement on the right hand page. What do you think?

Today I have been getting really messy! In addition to creating my face for 29 faces, I've been playing with letter stencils.
I created today's face using pencil, watercolour pencils and acrylic paint. She still doesn't look entirely like the one I was copying, but I'm getting better!
I signed up for this free workshop, Use Your Words, from Carolyn Dube the other day and have been having fun playing with letter stencils for the first lesson.
I started off with a collage of torn newspaper which I covered with a few layers of acrylic paint. Then I started playing with stencils! As I didn't have the letter stencils Carolyn recommended, I made my own by removing a set of chipboard letters from their holding sheet, then using the sheet as a stencil. I used the whole alphabet and numbers to create the first layer, then made the word 'creative' over the top in a darker colour. I finished off using an Artist Cellar stencil to create a bit of interest at the bottom of the page.
I quite like how it looks right now, but I have a feeling I may be adding some more to it later!