As part of my September fresh start, Ive been brushing the cobwebs off my creative skills and learning some new techniques as I've played along with a whole bunch of fabulous artists – free workshops that Connie Solera gave as a bonus for signing up to Fall 2015 21 Secrets. I love the variety of different styles that I've created as a result.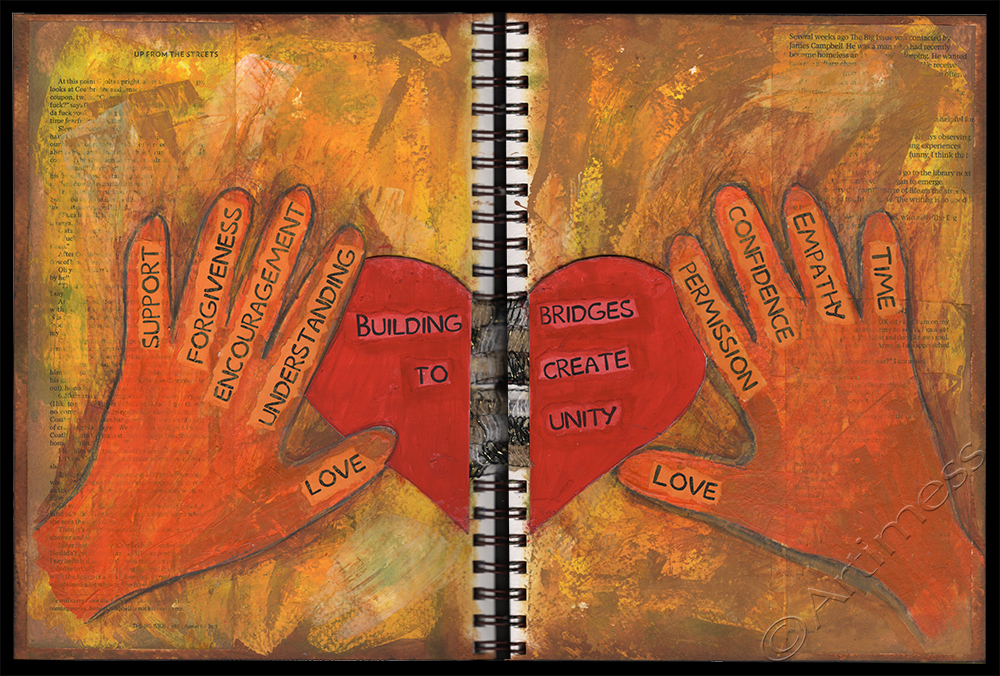 This first journal spread was the result of a workshop with Gretchen Miller reflecting on giving and receiving. I had great fun creating the bridge over the binder rings using some of the wool I bought recently, but its made it quite difficult to close the journal now!
I really loved creating this journal page with Violette Clarke. I didn't follow her instructions to the letter, but I learned a lot and really like how my page turned out. I was totally inspired by this amazing lady, her incredible vitality and vibrant work.
This page was the result of listening to the 21 Secrets Conversation with Eric Scott from Journal Fodder Junkies. After listening to Eric talking to Connie I was intrigued to find out more, and went hot footing over to the Journal Fodder Junkies site where I discovered a series of how to videos. My page didn't quite turn out how I thought it would, but I had great fun making it, and learnt loads in the process.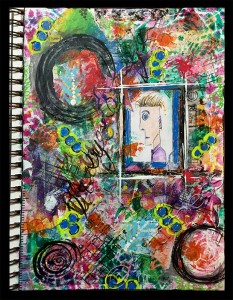 This final page was inspired by a workshop with Roben Marie Smith. I don't think I've ever made such a busy page with so many layers before, but I really love how it's turned out.
I still have a couple more free workshops to take part in before the end of the month when 21 secrets starts, and lots of inspiration for more pages to create – so watch this space to see what I get up to next!

It's less than two days now before we get the keys to our new home and it's getting to the point where I will have to seal up the boxes with my paint in. But I was determined to have one last play before that happens.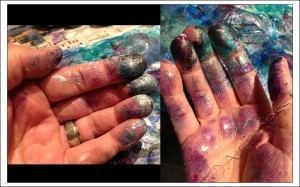 As you can see by the state of my hands, I had a lot of fun!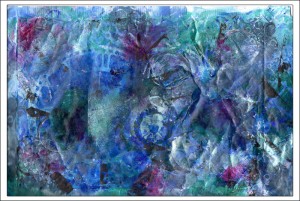 And this is the new mail art! I really wanted the colour to be all blue, but as you can see… the red and purple just couldn't help but creep in! I used acrylic paint with stencils and fingers and home made stamps, and lots of layers – so many layers, that I don't think any of the original envelope shows through at all!
I hope to be back with the paint by the weekend, but till then I'll be playing with photos and blending and possibly some words!.

Today I felt like having a digital day. I started with an image of a feather and turned it into a digital brush. Then I played with brush settings, altering its spacing, randomising it, and flipping its axes. I put each new variation on a new layer then added coloured layers and blending into the mix. Finally I topped all the layers off with a leaf print image taken from my stash of images created in September. Then I played with some serious blending!
This is my favourite of the resulting images, but they all looked so nice that I thought I'd try something different. I created a window containing bits of all of them.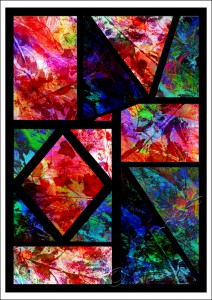 Do you like it?

I really enjoyed this weeks Life Book lesson with Samantha Kira Harding. Each layer had its own special meaning and took courage to cover and move on. But I'm so glad I did – the finished piece has so much depth.
This is the first scan taken after the first three layers. Layer one was journalling done using Derwent inktense pencils. This was followed by a layer of white Gesso which made all the journalling colours run and blend together creating a lovely soft background colour. Layer three was a mixture of alcohol inks shaken from the bottles to create nice ink splodges which I swooshed around with a tissue to spread the colour further, and a lino cut which I stamped over the top using distress inks.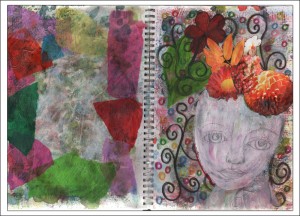 This next scan – done on my lovely new A3 scanner – was taken after the next two layers. It took a while for me to pluck up the courage to add a layer of Gesso to everything and even more courage to start doodling over the top of it, but I'm glad I took the plunge! The doodling on the right page was done using graphite pencil and neocolour crayons followed by a flower collage and face outline drawn in pencil.The left page got a collage of tissue paper.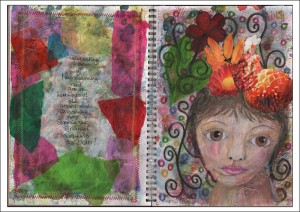 The final scan shows the finished piece. The face on the right page was painted using neocolour crayons. The left page had a machine stitched border added and journalling done with a gel pen. It took a few days to complete, but I'm really pleased with the end result. Thank you so much Samantha!