Still inspired by Jodi Ohl's Just do it – Free Art Friday post, I decided to create another stained glass image, but to cover it in doodles in the style of my zentangle drawings. I used a 5″x7″ canvas board to draw it on.
I doodled using a Unipin fine line pen which claims to be 'water and fade proof'. "Hmmm, we'll see about that!" … I thought. My record with so called waterproof pens is not very good!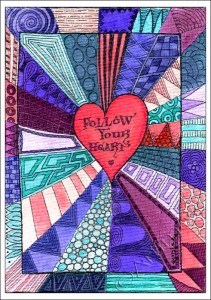 Wow – I'm impressed! Not a smudge or a smear anywhere! These pens are good! I used Twinkling H2O's to add the colour, so the ink got verrry wet! Now that it's finished, I think it looks kind of mandala-ish – the way it pulls your eyes in to focus on the heart. It wasn't intentional, but I rather like it. What do you think?
I've been playing blending again! I made a stained glass window image inspired by Jodi Ohl's Just do it – Free Art Friday post.
But unlike Jodi, I didn't doodle on my painting, I scanned it and played digital blending with it!
Then I thought it might be a good idea to finish face #16 which has been lurking accusingly for a while now!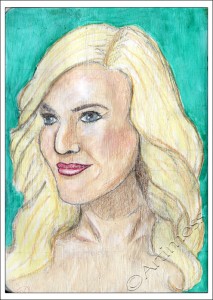 I'm glad I did – I'm quite pleased with how she turned out – she's definitely one of my better faces! I drew her in pencil and coloured her using acrylic paint and watercolour pencils. Now what shall I do next?

Still playing catch up with Life Book 2012, Jodi Ohl showed us how to make these embossed foam embellishments – really cool!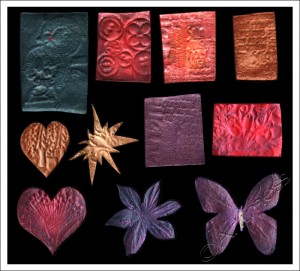 They really are very simple and cheap to make and can be made into simple embellishments, buttons or anything else you can dream up! Heat up the foam with a heat gun and then press a rubber stamp into it to emboss the pattern. You need to press very hard, and the foam is quite hot so I don't think it will work with clear stamps (they don't like heat, and tend to go all squadgy if you press too hard). If you don't like the result just heat and try again. When you are happy with the result you can colour them any way you want. I used a mixture of acrylic paint, perfect pearls and gel medium to give a nice glossy finish and seal them.
Like the backgrounds, I'm not sure what I'm gong to use them for yet … but keep watching … they'll turn up on something soon!

Today I played catch up with my Life book 2012 classes. I completed Lesson 29 from Jodi Ohl. The lesson started with a positive letter to my younger self which I then tore up and used as the basis for the piece. For the next layer I added some printed tissue paper followed by a thin wash of white gesso. Then I stamped a border using home-made foam stamps and acrylic paint – messy!
When it was all dry I drew the face using pencil and coloured it using a mixture of acrylic paint, gesso, Inktense pencils, uniball pen and pencil. Finally I added a set of positive affirmations around the edge.
I had so much fun making this and found the personal development element very useful – thank you Jodi!

This catch-up on the Life Book Course came from Lesson 20 with Jodi Ohl.
I started out by colouring the background using Derwent Inktense pencils. For the doodling and text I used a uniball eye pen, then coloured the doodles using neocolour crayons and a graphite pencil. The two stamps were hand made using pieces of fun foam: I stamped the butterflies using a distress ink pad, and the star using a Staz-on ink pad.
I'm still toying with the idea of adding more doodling. What do you think – do you think I should?