Happy New Year to you all!
December flew past, taken up with finishing my dissertation followed by a really relaxing family Christmas – it seems like ages since I last posted. But I have been busy creating!
It's become a habit over the last few years to use this workbook from Susannah Conway to review the passing year and look forward to the New Year, including choosing a word to represent the coming year. This year I chose 'Emergence' as my word and placed it in the mandala from the workbook.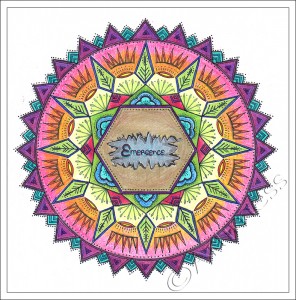 After I uploaded it, I just couldn't resist pushing the invert button to see what happened. I'm not sure if I like it. What do you think?
A couple of days ago, I was inspired to create this large painting by these words from Leonard Cohen's song 'Anthem':
"…There is a crack, a crack in everything
That's how the light gets in."
Today, I couldn't resist the call of a ball of yarn in my supply box. It was calling to be made into a doll. This is the result!
I devised this method of creating a doll from yarn last month when I was playing with a few scraps laying on my desk one evening. With the exception of the head, which was stuffed with a small ball of tissue to give it shape, the entire doll is made from wool wound round on itself. This is the original that I made last month.
They're so simple to make, and have endless possibilities from a therapeutic point of view which I'm working on developing at the moment.

Happy New Year to you all! This post has been a long time coming, but December was a totally chaotic month with so much going on that I scarcely had time to breathe! However… January is here now, and I have started creating art again! In fact I spent most of New Year's Day painting up in my studio – what a great way to welcome in the new year!
I created 2 images on recycled cardboard and 5 journal pages in my recycled journal. I had a bit of trouble getting my scanner to work after it's long rest, but the perseverance paid off! I created this piece using recycled cardboard, acrylic paint, stencils and spray paint.
I'll post the rest of the images over the next few days as soon as I've finished processing them. (I'm busy struggling to write an essay for my course at the moment!) So keep watching this space.

I hope you all had as good a holiday as I did. I'm busy now catching up and getting ready for the new year! Part of my preparations included completing this free workbook from Susannah Conway. It really is my type of workbook with lots of space for drawing and doodling!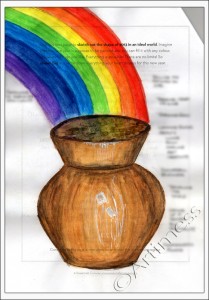 This is my response to her instruction to "Sketch out the shape of 2013 in an ideal world".
I haven't had time to do any artwork since we got back from our family visits – but don't worry – I'll be playing very soon. I'm getting very bad withdrawal symptoms! Meantime let me wish you all a Very Happy New Year with this photo taken a few minutes from our house on our return.