I've rather got hooked on these Zentangle doodles – looks like I'm going for a series!
I chose to use the sun as my central image this time. Everything is drawn freehand, which is why the box is not quite square to the page on this one – just call it artistic license!
Once again I used my Unipin Fine Line pen – I think I'm going to have to bulk buy these if I do many more of these zentangles!
I just wish the scan could show the wonderful shimmer that the Twinkling H2O's add to the image!

As part of re-creating my identity back here at Artimess, I decided to design myself some business cards. The front was no trouble, but I thought I'd like to put some of my artwork on the back.
I started by creating this Artimess zentangle: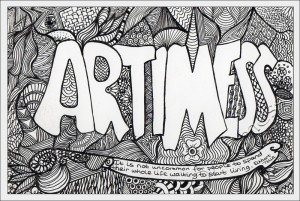 I used A6(105mm x 148mm) white art board and drew with my trusty Rotring Rapidograph .25 Pen.
Then I found this photoshop tutorial from 10 Steps and thought it looked like fun – I love digital blending! So I gave it a go: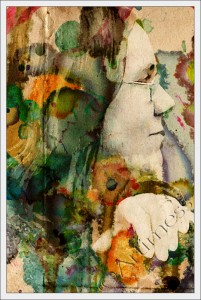 I love the result – mainly because it makes me look a lot younger than the original! So now I have 2 backs for my business card. Which do you think I should use?
The minute I saw the instruction to "Sew this page", I just knew I had to try to sew a zentangle! Check out the Zentangle website for all the info … but simply put it's a styalised doodle! I've been drawing Zentangles for quite a while now (check out my flickr set if you'd like to see what I've done) but this is the first time that I've tried to sew one! It took a lot longer than a hand drawn one as I had to prick out the design with a pin before I sewed it, but I like how it turned out!

But I wasn't happy with it as a journal page! So I got out my water colour pencils and coloured the facing page, then gave it a water wash and squished the two pages together to transfer some of the colour. It looked much better, but I still wasn't completely happy so I added some Webbing spray in gold ….. et voila!!
Most people would leave it there, but once I have an image scanned into my computer … I just can"t resist having a little play!! This is my favourite digital enhancement (I pressed the Invert Button!)