Happy New Year to you all!
December flew past, taken up with finishing my dissertation followed by a really relaxing family Christmas – it seems like ages since I last posted. But I have been busy creating!
It's become a habit over the last few years to use this workbook from Susannah Conway to review the passing year and look forward to the New Year, including choosing a word to represent the coming year. This year I chose 'Emergence' as my word and placed it in the mandala from the workbook.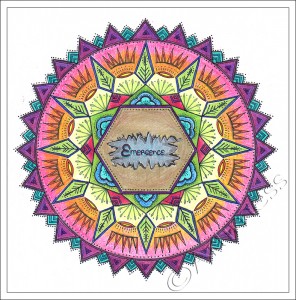 After I uploaded it, I just couldn't resist pushing the invert button to see what happened. I'm not sure if I like it. What do you think?
A couple of days ago, I was inspired to create this large painting by these words from Leonard Cohen's song 'Anthem':
"…There is a crack, a crack in everything
That's how the light gets in."
Today, I couldn't resist the call of a ball of yarn in my supply box. It was calling to be made into a doll. This is the result!
I devised this method of creating a doll from yarn last month when I was playing with a few scraps laying on my desk one evening. With the exception of the head, which was stuffed with a small ball of tissue to give it shape, the entire doll is made from wool wound round on itself. This is the original that I made last month.
They're so simple to make, and have endless possibilities from a therapeutic point of view which I'm working on developing at the moment.

In a new effort to inject some discipline into my art making, I've joined Lani Gerity's Morning Pages Daily Art Practice eCourse and am attempting to start journalling every day! But as usual with these things, Im already behind with posting the images, so here goes for a catch up.
I started by creating this journal background in my recycled journal using acrylic paint, stencils, a coffee creamer seal, a net bag from the grocery shopping, some molding paste and a few homemade stamps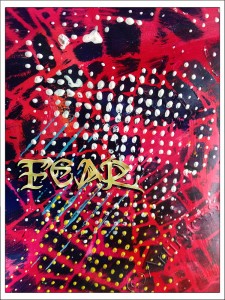 Next I used a photograph of some of the detail from the background (can you spot it?) and added some digital text to it.
After reading Soul Mate Dolls: Dollmaking as a Healing Art
by Noreen Crone-Findlay, I just had to have a go at making one of her paper dolls. I created her using card, fabric scraps, washi tape and wool, added her to the journal background above with a digital face, then added some digital text to the found text.
This last image was created in my handmade journal using leftover acrylic paint, a stencil and some digital text. Watch out for more journalling tomorrow!!

Continuing with my doll making addiction, the other day I got an urge to make a patchwork doll! I adapted the pattern from Elinor Peace Bailey's book Mother Plays With Dolls … and Finds an Important Key to Unlocking Creativity
, and decided to have a go at hand painting a face…
…and this is the result! She's very colourful and rather playful! What do you think?
Being me, I couldn't just leave her like that, I had to try adding her to a digital blend!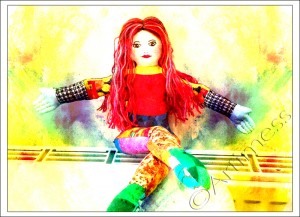 Do you like her in her new setting?