Since finishing my postcards, I have been busy playing with the new stencils I got last weekend. I always start my playing in my everyday notebook/journal, which is not quite big enough for the whole stencil.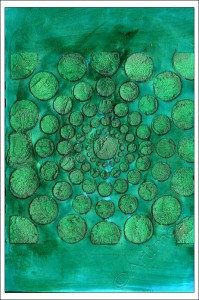 I had a tiny bit of Light Molding Paste left in my pot so I thought I'd try it out with this Creative Expressions stencil. When it was dry, I painted it with acrylic paint, then added some green Perfect Pearls using a Versamark ink pad. Just to finish it off I added a shadow to the circles with a Unipin fine line pen. The scan really doesn't show the lovely sparkly finish of the perfect pearls.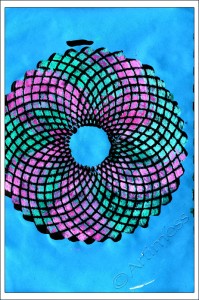 As I'd run out of texture paste, I thought I'd try creating a texture using some black gesso with this TCW stencil. At first I thought it had worked, but when it dried, it went rather flat! So I decided to add some colour to it using acrylic paint. I'm quite pleased with the way it turned out.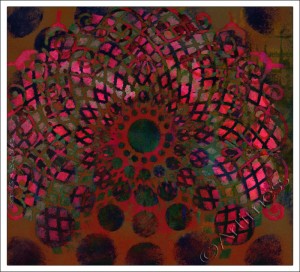 This last image is a digital blend of two scans of earlier acrylic paint prints using the two stencils above. I just love how many different effects it's possible to get using stencils!