Today I thought I'd have a break from working on water-colour paper and play with some glossy white card. I got some new distress ink pads and was itching to try them out!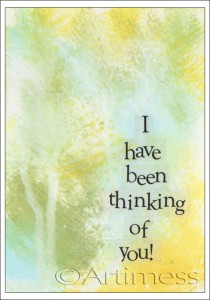 I applied the ink to the card using a pad of tissue, then sprayed the card with water to blend and create runs. I then blotted it with a clean tissue to dry it which added texture to the colour. When I looked at the result I thought it looked like a tree on the left. The words were cut from an old clear sticker I found when rummaging through my cupboard for something else, but I thought they fitted nicely with the image.

The leaf I used to print with on the post Newspaper Collage created a rather unusual pattern which I thought looked rather like a tree. So I thought I'd have a go at creating a landscape made from leaf prints.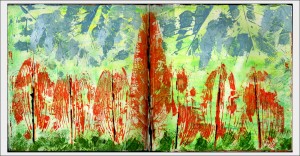 This is the result! I started off with a layer of white gesso to which I added a wash of colour using neocolour crayons.Then I added acrylic paint leaf prints to create my landscape, finishing off with with some tree trunks created using an old credit card. Quite effective I thought!