I'd been reading online about Tilt Brush the new virtual reality 3D painting app by Google, thinking that it looked like a lot of fun. So I was really excited yesterday at work to be given the opportunity to try it out – absolutely awesome!! This is a picture of me creating my 3D landscape – totally oblivious to the world around me!
Back in the real world I've been busy creating lots of physical artwork as well.
When I finish work late at night, I often play with paint in my everyday notebook just to let off some energy and get messy. This is the result of one of those playings.
This next image was completed over a week – playing with the techniques taught in Effy's Book of Days week 18 lesson.
I really enjoyed learning these new techniques and found the whole process very therapeutic.
Back to the notebook again…
… I had great fun using the wrong end of the paintbrush to scratch some texture into my image.
Staying with the same colour palette, I moved over to my small art journal…
…and had some more fun playing with textures.
This next spread was inspired by Tracy Verdugo's lesson from the Spectrum 2016 course.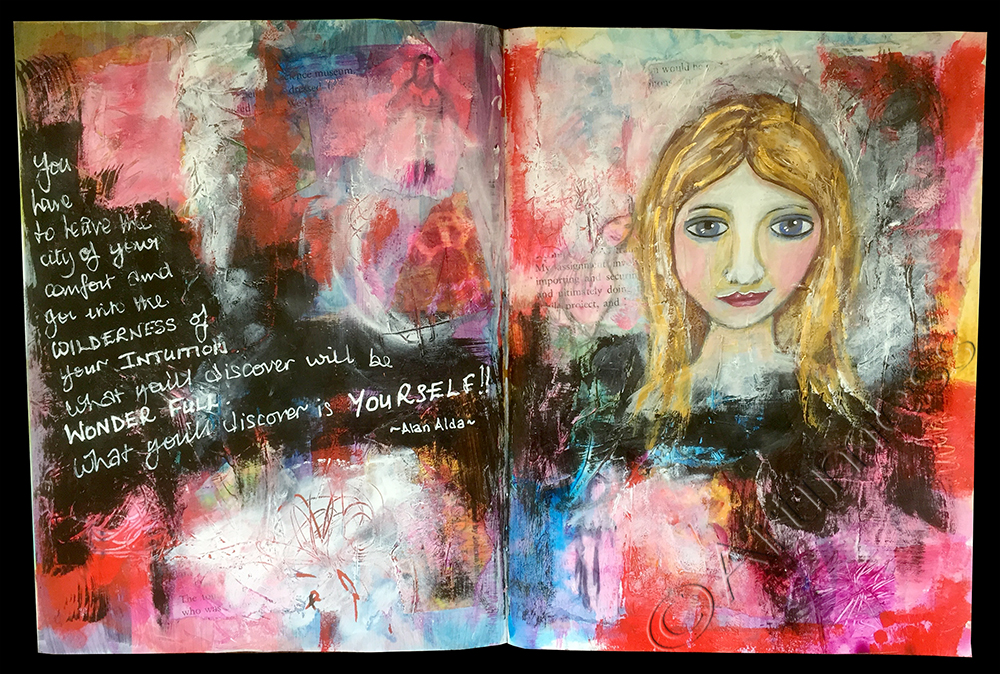 It was an amazing lesson and I loved the process. I really like the Alan Alda quote that I found to go with it too.
And finally, I've just finished this last spread, inspired by Effy's Book of Days week 20 lesson.
Following the BOD prompts this month has really taken me on an amazing journey and I've been continually surprised by the synchronicities that have appeared in my world as a result. Thank you Effy!

When I started AEDM (Art Every Day Month) this time last year, we were in the process of selling the house prior to setting off on our travels. It's been a very exciting year, we've experienced a lot and had so much fun along the way! Now – one year later, we have settled near the sea in North Yorkshire. I'm really looking forward to taking part in the challenge again.
I created todays art for this weeks Life Book class from Tracy Verdugo.
As I completed each part of the process I was reluctant to go on to the next stage – I liked it as it was, so I scanned the four stages. The first stage above started off with journalling using wax crayon. I was supposed to use oil pastel but I didn't have any! The idea was to create a resist – I thought the wax crayon would work, but it didn't seem to work at all! I added acrylic paint on top of the journalling.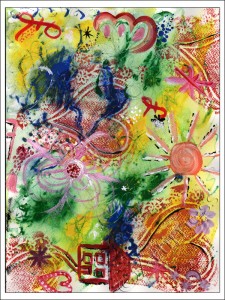 The next layer included stamping done using a home-made foam stamp with distress ink, and some more acrylic paint.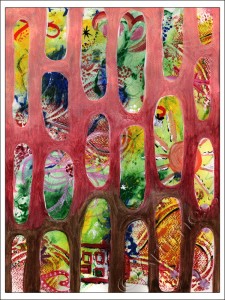 More acrylic paint for the next layer,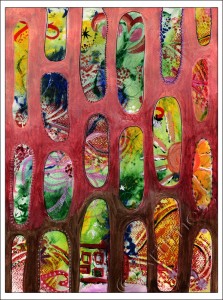 and finally a doodle layer. I doodled using a selection of gel pens, sakura soufflé pens, uni paint marker, and rotring rapidograph pen then added some additional colour added using neocolour crayons.