This morning I woke up with a head full of thoughts related to my personal therapy yesterday which I wanted to record.
I wrote the thoughts on the back of a postcard, then painted the other side using acrylic paint.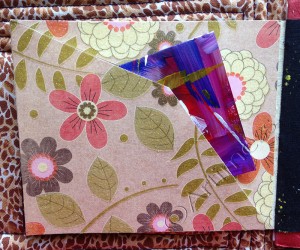 To keep my thoughts private, I made this little pocket using scrapbooking paper in my handmade journal.
Then I had a little fit of digital madness!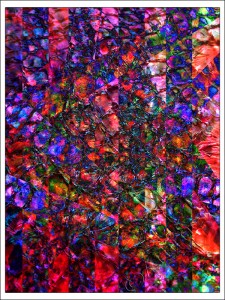 I started out cutting and blending several detail images from the 'Most Success' journal page…
…took pieces of the 'Cut and Blend image and created this Kaleidoscope…
…but I had to have one last fiddle and changed the colour to purple. Which one do you like best? I think I like the first one. It reminds me of the patterns and colours in my kaleidoscope when I was a little girl.

I've been busy altering tins and making game cards for Diana Trout's class on the 21 Secrets 2013 course.
I took two old cough lozenge tins, sanded them and primed them with gesso, then painted them with acrylic paint. It was not a success – the paint started to flake off! So I covered the paint with tissue paper glued on with gel medium. Success! I still wasn't happy with the way they looked, so I added several more layers of acrylic paint in different colours and another layer of gel medium. Once I was happy with the tins I created their labels using a stamped flower and a digital label. I coloured both of these using Twinkling H2O's. I made the game cards from double-sided scrapbooking paper, then used the same stamped flower and digital label for the instructions.
I found this class to be quite a challenge, but I'm glad I did it – I learned a lot. Thank you Diana.
About a week ago I posted this blended image and said I didn't think I was quite finished with it yet. This is why – I just turned it into a kaleidoscope! I love the colours and all the faces in the patterns. How many faces can you find? I keep losing count!