I'm finding this Notan quite addictive… so here's another one.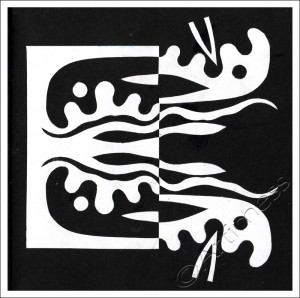 I cut this one a bit differently. Instead of folding the paper into four before cutting, I only folded it in half; and rearranged a couple of the pieces to break the symmetry. I wasn't sure which way up it should go, but I think I prefer it with the straight edge to the left. What do you think?
I'm still busy scanning some of the smaller cardboard pieces I created a while ago, so here's a couple more.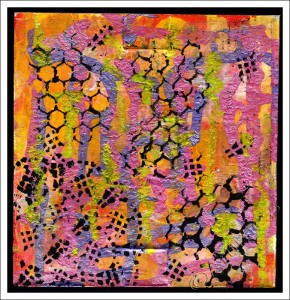 I created this piece on recycled cardboard using acrylic paint, acrylic ink, stencils and homemade stamps.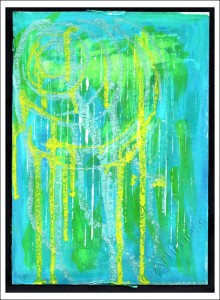 This is another piece on recycled cardboard created using acrylic paint and acrylic ink. But this one was calling to be blended…
…this is the result – quite dramatic, don't you think?

I'm playing catch up today – it's been a really busy week!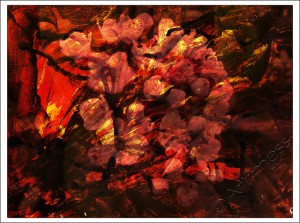 On Tuesday, I created a couple of backgrounds using a mixture of acrylic paint and ink. I scanned them both into the computer then added a photograph of some flowers and blended them to create this image.
On Wednesday I followed a video from Doll Dreams teaching us how to draw these cool doll birds! I tried it out in my everyday notebook using a uniball eye pen, then did the doodle later using my rapidograph pen while I was on the telephone! I didn't plan for them to go together, but I think they do anyway! Do you agree?
Today I had fun playing with all sorts. I started by colouring the page with neocolour crayons, then collaged an embossed sheet which I had coloured with distress ink and the stamped image of the globe which I cut out. Next I added the text which I printed on the computer and coloured using a watercolour pencil and a gold marker pen. Finally, after scanning, I added a bit of digital shading and distressing. I really like how it turned out. What do you think?

I have finally finished part two of Life Book Week 1! I had so much fun creating this – thank you Tam for such a great lesson! I chose an aeroplane as my mode of travel as I have have only just got my passport and have never yet flown. I intend to take my first flight in 2013!
I created my background using watercolour paint and rock salt, then added a collage of the plane, which I coloured using neocolour crayons, combined with a picture of me. I created the flowers using circles punched from old magazines then added the details using a uniball eye pen and watercolour pencils. Having already stuck the plane to the page, I then decided I wanted some buildings behind it! Nothing like planning for getting things in the right order! I photocopied a book drew the buildings using the uniball eye pen, then coloured them using watercolour pencils. Then I had to cut them to fit round the plane! Next came the clouds, using the uniball pen and white gesso, and the sun using the uniball pen, yellow acrylic and neocolour crayons. Lastly I added the text digitally after scanning.
Phew! All done just in time to start Week 2. Roll it on!

Yes! – the first Life Book class for 2013 is up and is not disappointing. As always – Tam gives such excellent value for money. This weeks lesson has two parts to it! This is my interpretation of the first part.
I created the background using neocolour crayons, then drew my Fairy Art Mother in pencil and coloured her using more neocolour crayons. I liked the way she looked on the page so rather than adding my text to the physical page, I added it digitally after scanning her.
I'm off to get on with the main project now – see you later!

Do you remember the new stencils I got just before Christmas? I found a small tub of Light Moulding Paste and decided to see how it worked with the stencils.
I applied the moulding paste through the stencil then painted it with metallic acrylic paint when it was dry. I just love the texture that resulted! I'll definitely be asking for a big tub of moulding paste for my birthday later in the month 🙂
After scanning the image, I thought it would make a great background for my word of the year for 2013 – Expansion. I didn't get round to choosing a word for last year with all the upheaval of travelling, but it's something I do like to do. Have you chosen a word for your New Year?