I love the autumn when the leaves turn such beautiful colours on the trees. As they fall to the ground it's the perfect time of year to satisfy the child in me by doing some leaf printing. A few mornings ago, I came back from my early morning walk with a large bag of assorted fallen leaves ready to spend the day playing!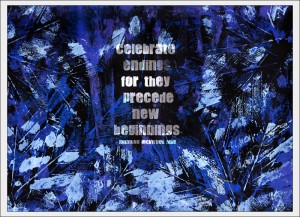 By the end of the day I had paint everywhere, together with a stack of images in a variety of styles and colours. Having scanned them all into the computer, I am now in the process of going through them. Some of them like the one above, immediately suggest something to me, but others may sit neglected for months before I discover a perfect use for them.
Autumn Blues was created using a base coat of black gesso, acrylic paint leaf prints, followed by some digital text and a bit of blending.
The observant among you may have noticed that I've just acquired a new badge on my right sidebar. I've just signed up for this years Art Every Day Month – the challenge of being creative every day for the month of November. I really enjoyed taking part last year from my Face of Love blog and am looking forward to being part of it again. Why don't you give it a try – it's great fun!
Every year about this time I receive a pack of beautiful cards, prints of pictures painted by mouth and foot artists. I have always admired their work and wondered how they manage to paint such beautiful pictures. I now have even more admiration for them having just completed this page of mouth writing for my journal …..
…. it was so hard to do …. it says "I don't think I'm very good at this! It looks like Chinese. How do people paint pictures like this? I'll try. Do you like my stick people?" …. I think I need a lot more practice 🙂
Not content with just making a beautiful mess in my journal, I love taking the scanned images and blending them to create more beautiful images. I started with this pen drawing …
…. and blended it with the scans of the "Document Your Dinner" and "Sample Various Substances" journal pages with these results ….
Finally … I just discovered this JigZone site that makes jigsaws out of your images. How cool is that!!! I just had to have a go 🙂
I've made two so far and posted them on the Pick a Puzzle page. Have a go and see how long it takes you to do one!
Keep checking … I'll add some more later.
It started with an A4 sheet of acetate. I added a generous covering of pva glue followed by a dash of alcohol ink, some lumiere paint, a few sprinkles of glitter and some torn pieces of newspaper. I covered this with three layers of tissue paper (and some more pva glue) then left it to dry overnight!! This morning I assembled my own collage stamp using a selection of unmounted stamps stuck on a large piece of perspex and stamped the front of the acetate using a staz-on ink pad. Result …..
Most people would stop there …. but me …. I had to scan it into the computer …. and then I had to try blending it with something else!! I think it looks quite good blended with last nights Sail Collage. There were two that I really liked …
What do you think?