Up until the advent of the new easel, the biggest I had ever painted was a double page in my 12″x9″ Strathmore journal! To be honest, I had never had the courage to try anything bigger. But that's all changed now! With all the recycled cardboard from moving, I have lots of larger canvases to play on, and because they're made from recycled cardboard I don't have the fear of spoiling them that I might have if I'd invested lots of money in expensive canvases! And I'm really loving the freedom of painting big! Every day so far I've been adding some more to my 25″x25″ recycled cardboard.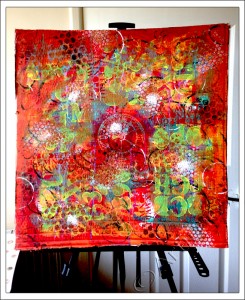 I've added more acrylic paint using letter stencils and home made stamps and am loving how it's looking so far, but have a feeling it still wants some more layers!
Meanwhile, I've been playing with some rather smaller pieces as well!
I created this one on recycled cardboard using acrylic paint, stencils, homemade stamps and a paint covered mopping up tissue to add the highlights…
…and this one on salvaged plywood using acrylic paint, acrylic ink and homemade stamps. The only problem with the plywood was that it had quite a pronounced curve from being used to protect the corners of something (I can't remember what!) and when I tried to flatten it for the scanner it cracked across the top and had to be mended 🙁 …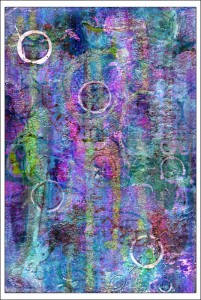 …and lastly – a little bit of sparkly digital blending – you need to look at the larger version to really see the sparkles.

I can't believe how long its been since I last posted here! I've decided that unpacking is a lot more stressful than packing … but it's finally all done – including the 5 boxes which my brother returned to me (after looking after them for the last 18 months) during his visit last week!
So… what have I been up to? I got my paint trolley from Ikea…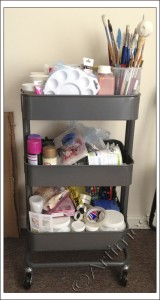 I broke up all the packing boxes and saved a big pile of assorted shapes to use as canvases, then started painting some of the smaller ones.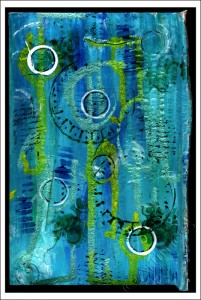 I painted this on recycled cardboard using acrylic paint, acrylic ink and various homemade stamps.
I painted this on a scrap of plywood salvaged from some packaging using acrylic paint, acrylic ink, clear stamps and a staz-on ink pad.
There are lots more to show you, but I haven't finished scanning them all yet, so I'll post pictures of them during the week.
I also got a brilliant easel for painting big …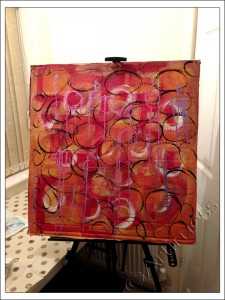 … as you can see – I've already started playing with it. This is just the first few layers – I've added two more since I took this picture!! I'll post another picture when it's finally finished.
I've also been playing digital … but you'll have to wait till tomorrow to see them or I'll never get this posted.
I'll leave you with this beautiful view taken on a trip to the Peak District, half an hour from our new home, yesterday.