Finally, at long last, my sparkling glitter web is complete!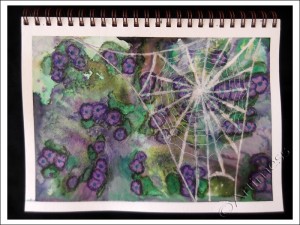 The photo really doesn't show just how sparkly it is, so I've included this detail shot. Click on it to see the sparkles! I love working with Twinkling H20's, but I've never actually used them as watercolour paints before – I must admit I struggled a bit with that! But overall I'm quite pleased with the result.
I created the background using a mixture of Twinkling H2O's and Inktense water colour pencils; the spiders web using bleach, a glue pen and holographic glitter. Oh, and I nearly forgot the salt – but I only used a little bit of that! It sounds so simple doesn't it – I suppose it was, I was just terrified something would go wrong!
There's still one more part of Dion's class to go (this lady believes in giving value for money!) – but as I don't have any of the ingredients at the moment – it will have to wait awhile. Thank you so much Dion, it' been brilliant so far – I'll come back later for the last bit!

Yes … I have a green thumb …. but no – that does not mean I'm good with plants! I just got a little bit too enthusiastic with a spray can of metallic green paint 🙂
It all started last week when I taught leaf printing at one of my craft classes. I get so much inspiration from teaching! … I came away from that class inspired to find as many ways as possible of using leaves.
A few weeks ago I came across several cans of spray paint left over from previous projects … so I decided to try using them with the leaves, and the 'Sample Various Substances' page seemed the perfect page in the journal to use for the experiment.
After I'd picked a selection of leaves I used them as both masks and stamps to achieve this effect.

Using leaves for printing, you end up with some beautiful colourful leaves. I took a couple of the ones I brought home from the class, covered them in Gel Medium and used them to create this picture.

Going back to my journal, I decided to do something with the 'Document Your Dinner' page. I wasn't prepared to feed my dinner to it, so I did the next best thing and used a heap of favourite ingredients to splatter over the page. I used Soy Sauce, Spaghetti Sauce, Strawberry Sauce, Lemon Juice and Salt!

I'm quite pleased with the visual effect … and it's added yet more interesting aromas to the journal – it really is a multi-sensory experience!!