Just because I haven't been posting, doesn't mean I haven't been journalling! I treated myself to a little pocket journal, and have been doing my five minutes + every day! I made this title page at the beginning of the book…
… using my Rotring Rapidograph pen to draw with, then colouring with watecolour pencils and Neocolour ll crayons.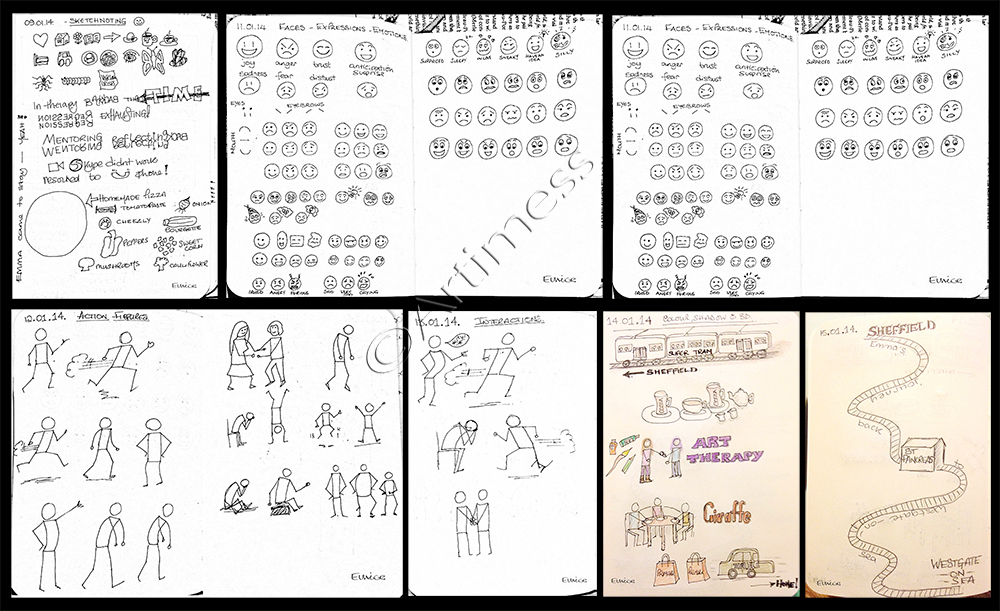 We've been learning about sketch noting, and I have to admit, I've really enjoyed using this way of journalling as you can see from these pages.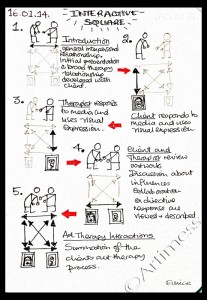 This last page is my version of a bit of psychoanalytic theory, adapted from a paper by Anita Bragg & Patricia Fenner (2009), which I'm talking about in my course essay at the moment!

Continuing on from yesterday, I thought I'd stay with the small size and doodle some zentangles. The inspiration for this came from the latest issue of Craft Stamper Magazine.
I created the border round the edges first, then stamped the mouse and text (very old freebies from a magazine), then filled the remaining space with doodles. I used my trusty Rotring Rapidograph pen for the doodling and a black Staz-on ink pad for the the stamping. I finished it off by colouring the mouse using neocolour crayons. I like the contrast the colour makes with the black and white of the doodles.

When I started AEDM (Art Every Day Month) this time last year, we were in the process of selling the house prior to setting off on our travels. It's been a very exciting year, we've experienced a lot and had so much fun along the way! Now – one year later, we have settled near the sea in North Yorkshire. I'm really looking forward to taking part in the challenge again.
I created todays art for this weeks Life Book class from Tracy Verdugo.
As I completed each part of the process I was reluctant to go on to the next stage – I liked it as it was, so I scanned the four stages. The first stage above started off with journalling using wax crayon. I was supposed to use oil pastel but I didn't have any! The idea was to create a resist – I thought the wax crayon would work, but it didn't seem to work at all! I added acrylic paint on top of the journalling.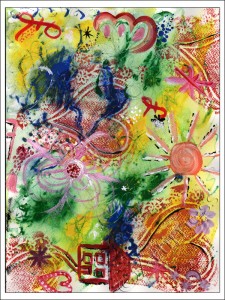 The next layer included stamping done using a home-made foam stamp with distress ink, and some more acrylic paint.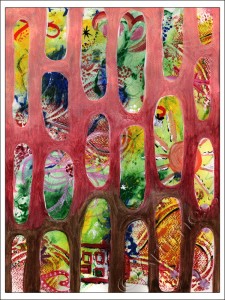 More acrylic paint for the next layer,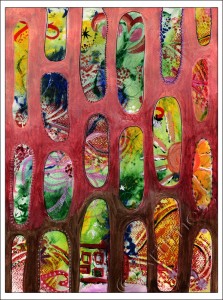 and finally a doodle layer. I doodled using a selection of gel pens, sakura soufflé pens, uni paint marker, and rotring rapidograph pen then added some additional colour added using neocolour crayons.

I love Guada's mandalas, and so was thrilled to have a lesson from her as this week's Life Book class. Her instructions are always so easy to follow and even though I started out copying her design the end result is so totally different!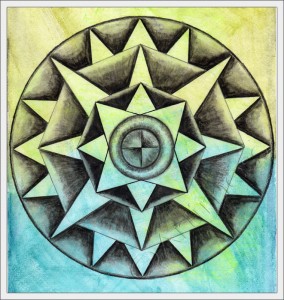 The background was created first using neocolour crayons on copy paper, blended using a watercolour brush. When the background had dried the paper was a little crinkly, so I ironed it flat (much more fun than ironing clothes!) and printed Guada's template onto it. Then following instructions, I created the mandala and coloured it using my Rotring Rapidograph pen and Derwent Inktense pencils.
I just love the result. If you'd like to have a go, Guada is running a free course starting in October called The Seed of Life. Click on the button on my right sidebar for more details. Thank you so much Guada 🙂
As part of re-creating my identity back here at Artimess, I decided to design myself some business cards. The front was no trouble, but I thought I'd like to put some of my artwork on the back.
I started by creating this Artimess zentangle: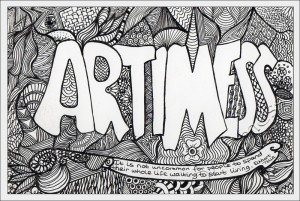 I used A6(105mm x 148mm) white art board and drew with my trusty Rotring Rapidograph .25 Pen.
Then I found this photoshop tutorial from 10 Steps and thought it looked like fun – I love digital blending! So I gave it a go: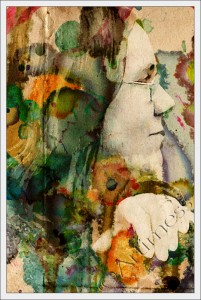 I love the result – mainly because it makes me look a lot younger than the original! So now I have 2 backs for my business card. Which do you think I should use?