Ive been wanting to keep a Journal for a long time now but haven't managed to get started. So when I saw Rhomany's 'When Frogs Sing', Journalling course I signed up for the year! I had to smile to myself while watching todays video – I have this little problem – I love making mixed media backgrounds, but I'm not so good at adding the journalling. But then I thought "why don't I add it digitally" – so that's what I'm doing!
This is the scan of the first page which I created in my altered book/journal using acrylic paint and a home made stamp.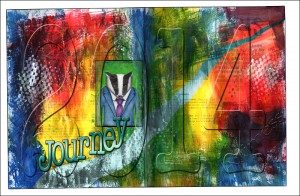 And this is the page after adding digital text and images. Journey is my word for the year and Badger is my totem animal for 2014. My colour for the year is Phtholo Blue Green Shade.
Yeah – my first journal page complete!

It's Friday again, and I'm joining with Tammy from Daisy Yellow on her link-love mission.
Today Tammy suggests we link to 5 of our favourite topics… so here goes.
Healing and Natural Living:
I love reading Rose's blog Walk in the Woods and looking at all her beautiful photographs of the things that she makes. Rose has a home-based holistic wellness practice and creative studio, and blogs about her daily life.
Inspiration
The Tiny Buddha site run by Lori Deschene is a wonderful place to get daily inspiration and encouragement.
Hand Made Books
Robin creates the most amazing hand made books and journals – wonderful inspiration if you're a compulsive bookmaker like me!
Journalling and Mixed Media
Rhomany's blog is a wonderful and constant source of information and inspiration on all aspects of journalling and mixed media artwork.
Self-Care and Inner Exploration
Liz is a teacher, author and artist. I'm currently working through her book, 'Inner Excavation', for which she has blog posts and videos from a free read along she hosted last year here. Brilliant!
I've already had a sneak peek at some of the other links out there, but I'm off to have a proper look now. See you tomorrow!