All Packed up and ready to go… in just over 12 hours we'll have the keys to our new home – very exciting!
These two boxes contain essentials … my paints and brushes, recycled stamps, gel medium, stencils and many other goodies that I have been using for the last week or so. I feel as though part of me is missing at the moment! So to keep me out of mischief I've been playing image altering on my iPhone!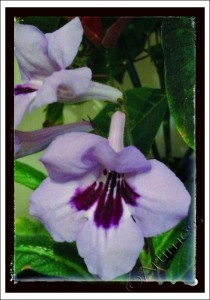 We were given this plant by a good friend just over a year ago, and it is still flowering and flourishing. I have no idea what it's called, but I love the colour and the shape of the flowers. Can you put a name to it?

Four days left and counting! The packing is done except for the last few bits, all the boxes are taped up except for three of my art supply boxes, so we're almost there!!
Carrying on the addiction, here's another recycled padded envelope. This one originated from my pen supplier!
I started out with the 'Fragile' tape again – I do like how that looks through the paint! Then I added a couple of small gel medium transfers, and followed it up with lots of acrylic finger painting, recycled stamping, homemade stamping and stencilling. I finished off with a little metallic paint drippage. I think this one may have a face lurking in its depths … keep watching to find out!

I'm never quite sure what qualifies as 'Mail Art'. Does it have to be something you make to send through the post, or can it be recycling something that has already been sent through the post? I'm sure someone will enlighten me, but in the meantime, I'm calling what I created today 'Mail Art'!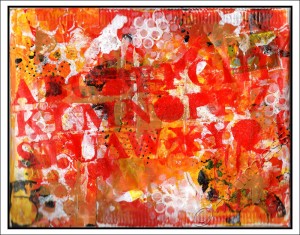 We received it in the mail a couple of days ago when it contained some computer memory for a computer Bry is currently repairing. Knowing my acquisitive habits, he gave it to me for recycling. I originally intended to put it with my collection of padded envelopes, but it never got that far. It's been sitting in a pile on my desk, and this evening when I was wanting to paint something small, it seemed the obvious choice of canvas.
I decorated it using acrylic paint applied with my fingers and an assortment of my recycled 'stamps' (sequin waste, old cards, creamer sealers, washers, etc). I finished it off using the waste from a die-cut alphabet as a stencil. I really like how it turned out – maybe I'll re-use it as an envelope now it's finished!