I've been totally overwhelmed by academic overload of late! But I have been painting … here are some of my latest creations!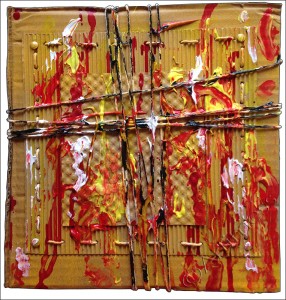 I've been using quite a lot of thread and string in my art work recently – a reflection on how I've been feeling, perhaps? I created this using recycled cardboard and packaging, string, brads, spray paint and acrylic paint.If you look at the enlarged image you can see how dimensional the paint is!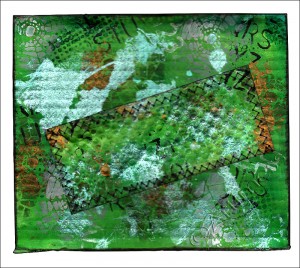 Some more recycled cardboard and packaging, machine stitched and painted with acrylic paint and acrylic ink using a selection of stencils.I created this piece alongside a stitched postcard that I made for the Great Big Stitched Postcard Swap. I'll post a picture of the postcard once I know it's been safely received.
This is my favourite piece. Unlike the other two pieces, this was created in a much more intuitive manner while reflecting on an issue that I am currently dealing with. Like the others it uses a recycled cardboard base, together with acrylic paint and acrylic ink. Which one's your favourite?

We seem to have bought a lot of books just lately, acquiring as a by-product lots of those cardboard sleeves that books come wrapped in. So when I looked at Kate Crane's 21 Secrets 2013 Class and saw that it was about trying out lots of different techniques, I thought the book packaging would make an excellent base for these projects.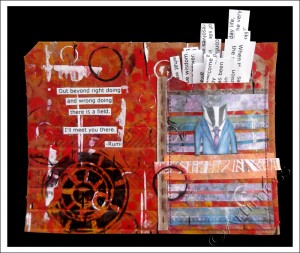 For the first project I started off using spray inks and stencils. Because I sprayed them directly onto the cardboard, the colour was not as bright as I was hoping for. I could have painted over with gesso and started again but I decided to go with it and see what happened. Next I added acrylic paint using a variety of stencils, bottle tops, cards and stamps (including one of my home made foam stamps). I decorated a "dinner money" envelope with strips of old scanned artwork and stitched it to the board then added some ribbon and some more stamping. Lastly I added some cut out quotations to the envelope, and stuck one of them to the card.
For the second project I started off with some old sheet music which I glued to the cardboard. I covered this with acrylic paint, then used a selection of hand made foam stamps to create more interest. I finished it off with a collage of a painted stamped image and a die cut butterfly joined using a tiny split pin, and a quotation which I outlined using a Pitt artist pen.
Four more projects to go – this is fun – I'm off to do some more. See you later!

Today I've been having fun trying out some new techniques and ideas.
I found this first technique in the latest copy of Craft Stamper magazine.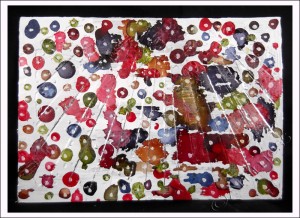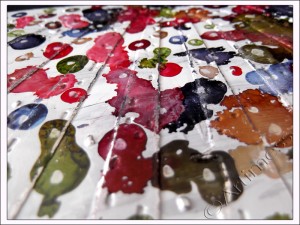 As usual I didn't have all the suggested ingredients, so I improvised! I started by gluing a piece of baking foil to a piece of recycled packaging card, then coloured the foil white using a Uni Paint Marker. When the white marker was dry I dripped spots of different colours of alcohol ink onto the white then added white marker spots on top of the colours. As you can see – some of my spots spread a little! When all of that was dry, I embossed it using an embossing folder then sanded the edges of the embossed edges to allow the foil to shine through. Mine's not quite as dramatic looking as the example in the magazine, but I'm still impressed with the result.
The inspiration for my second piece came from these two posts (Dimensional Paper Cut Cards and Watercolored Dimensional Paper Cut Cards) from Julie Fei-Fan Balzer. I have always loved creating pop-ups but have normally made them as add-ons to the page. The idea of cutting them directly from the page seemed too intimidating. Seeing Julie's beautiful work inspired me to have a go.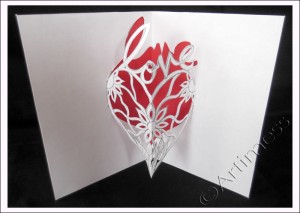 After a few rather disastrous efforts where the middles fell out altogether or the design folded into strange places, I finally got it worked out! I drew the design using pencil, then cut it out very carefully using a pair of tiny, very sharp pointed scissors. I chose a red card to back it and stuck them together using low tac double-sided tape. I didn't erase the pencil lines as I couldn't decide whether or not to outline the shapes. What do you think? I'm really pleased with how this first one turned out and am itching to try another one. As Julie says on her blog – they are very addictive!