The 1st September, time to make a fresh start! As you might have noticed over the last day or so, I've been busy giving my site a face lift, playing around with some new colours and a different header. It feels like it's time to do some serious creating!
August has been a kind of limbo month for me, the time between the end of my studies, and the beginning of my new professional practice as an Art Psychotherapist, so I've been playing in my art journals exploring ideas and materials.
This journal page spread was created in my recycled Journal using torn magazine pages, fibres, gouache and homemade stamps created from repurposed rubbish.
August has also been a time for getting out and about, visiting new places and discovering wonderful bargains to add to my creative supplies.
I got this wonderful fabric from a lovely lady on a market stall in Bradford …
… and just look at all this amazing yarn that I found in the wool shop in Buxton!
September is going to be a month of new beginnings, so to mark my intention to create more art, I've signed up to Connie Solera's 21 Secrets course due to start on 28th September.
I've got lots more artwork from August which I'm looking forward to sharing with you. But for now I think I'd better get myself to bed as it's gone 2:00 am.

Two more pages to add to the steadily growing collection! Another painted postcard for journalling on…
…created using acrylic paint, a stencil and acrylic ink. The black blots remind me of seahorses or maybe glow-worms. What do you think?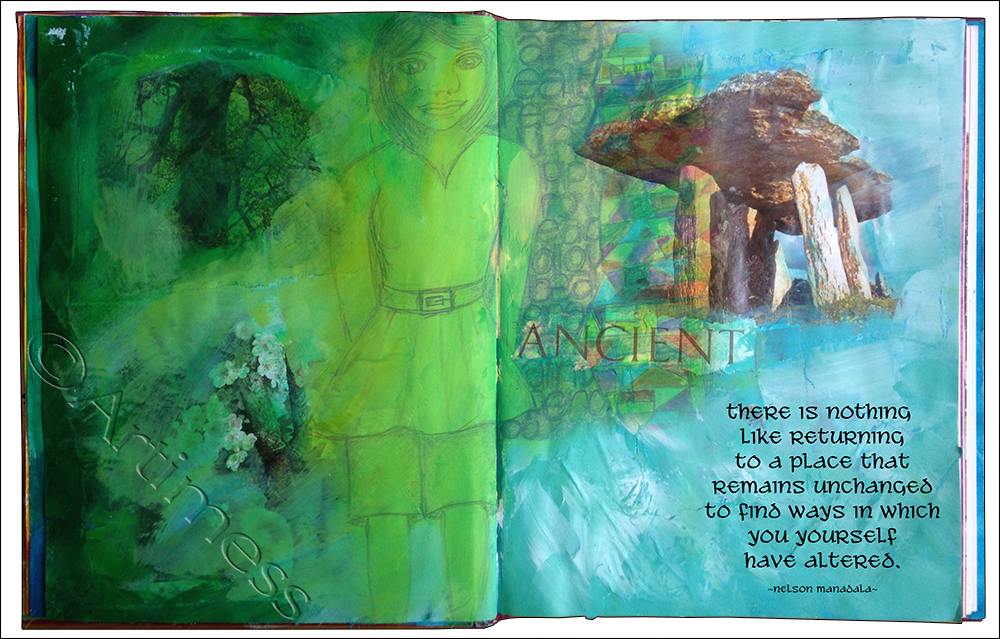 And another page in my recycled journal. This started out as a collage with acrylic paint. I added the scanned person doodle and blended her in, then chose and added the Nelson Mandala quotation using digital text.

I'm slowly filling my recycled journal! If you look closely you can see the fabric strips down the centre of the page marking the end of one signature and the beginning of another.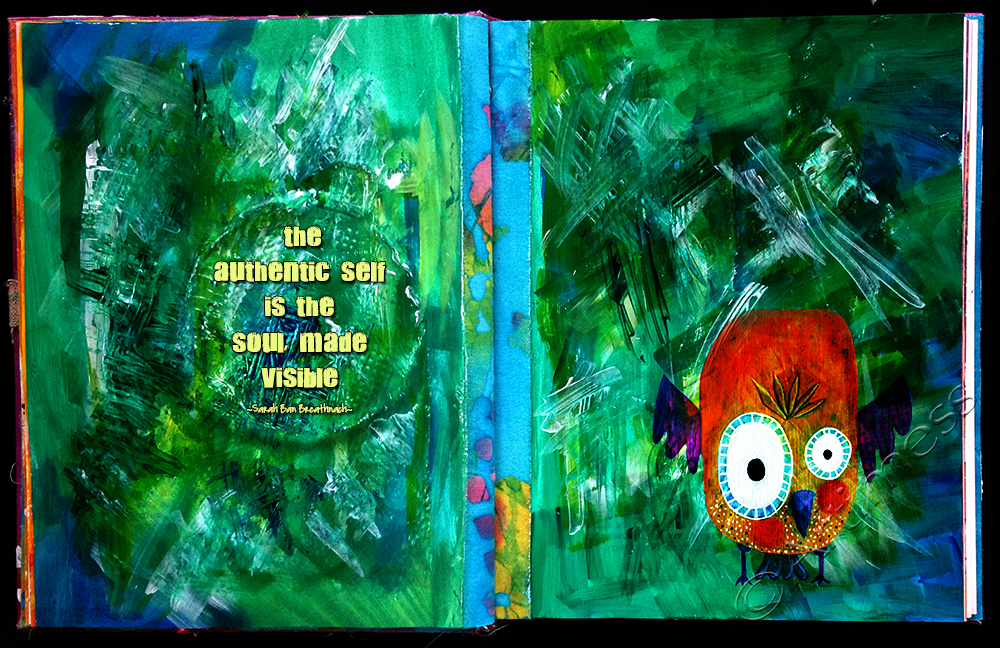 I created the background using acrylic paint in layers and used an old credit card to scrape the final layer on which gave it a more textured look. Some of you may recognise the quirky bird on the right. I originally painted it some time last year, but thought it would look good on this page so I added it digitally and blended it in a bit. Lastly I added the quotation using digital text. I love how the coffee creamer lid shape from the previous page makes a perfect frame for the quotation!

"Paint, glorious paint…" a slight misquote I grant you – but after a long absence (at least a week!) its so good to be slinging paint again!! Even in my little journal!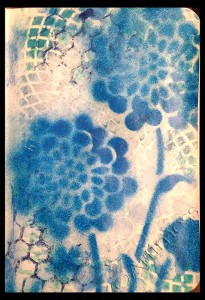 The colour's not very good in the photo, the original is a more peacocky colour! I created it with some acrylic paint, stencils and a bit of spray paint!
Then I went back to my recycled journal to make some more background pages.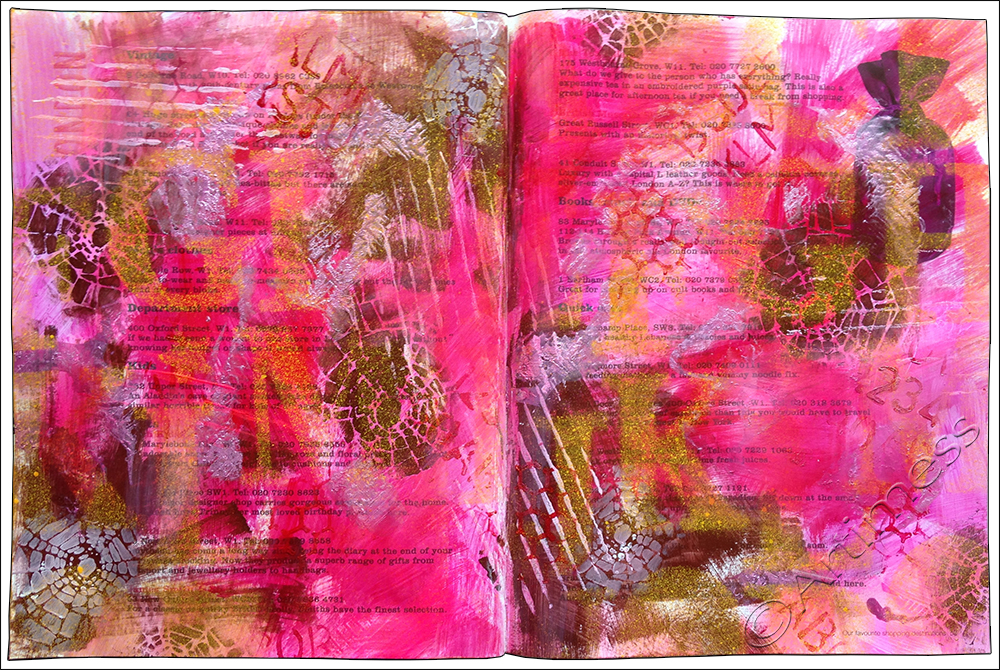 I don't really like pink… I know girls are supposed to, but I never have! So it was really quite a surprise for me to create such a pink page! I used a lot of different types of paint; acrylic paint, acrylic ink, fluorescent paint, spray paint, a few stencils and a homemade stamp.
I reverted to type and went back to my more usual colour palette.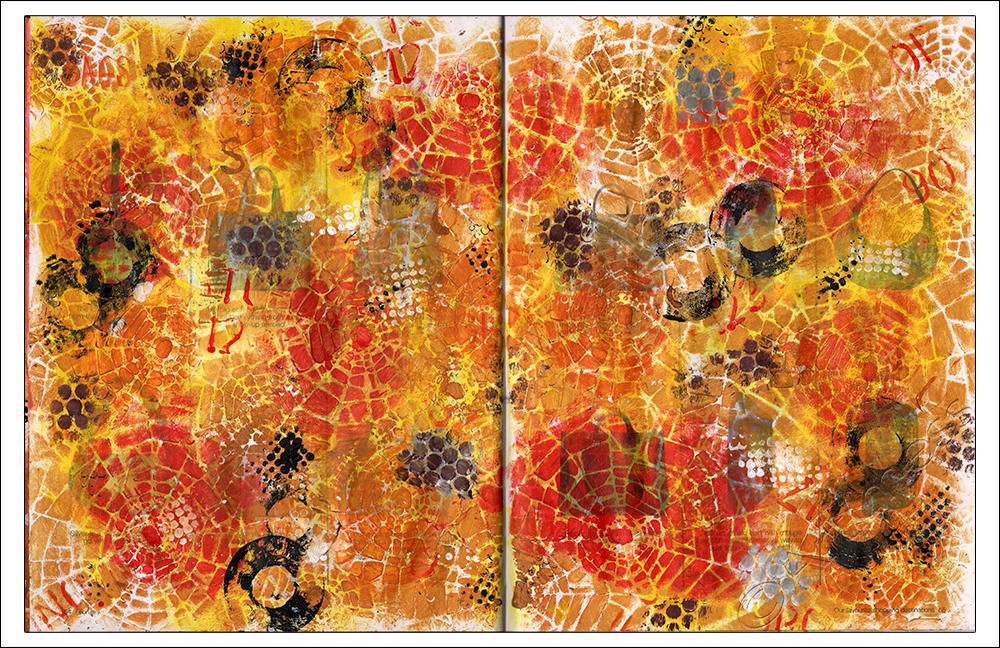 That's better… Sigh! All that pink… very worrying! I used acrylic paint, stencils and homemade stamps to make this page.
Last but not least, I dug out a piece of recycled cardboard for a change.
I do like working on recycled cardboard – it's such a forgiving medium. It just sits there and takes whatever you throw at it! In this case it was acrylic paint, spay paint and stencils.
I really think I'm overdue for a Big piece of cardboard. So watch this space!

The 1st of August has arrived bringing with it the start of Effy's challenge to blogalong with her for 30 days in August. There's still time to join in if you haven't already, just click on the link below.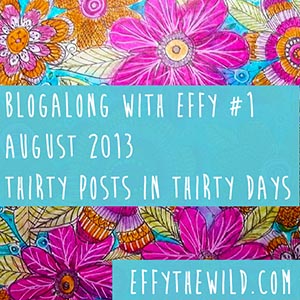 Being a little slow off the mark, I have just decided to join in Effy's Inner Excavate Along where she is going through Liz Lamoreux's book Inner Excavation. Effy has nearly finished, but I'm just starting …. O well as Effy says, I own the book so I can work through it whenever I like :).
Anyhow… after reading all the ideas and suggestions in chapter 1, I decided to create a word poem using a few of the words on the pages of my recycled journal. Originally I thought I'd add some joining words between the words on the page, but on reflection, I decided that would be overkill and have bravely left them stark and suggestive. I hope you like them.
I started out by very careful covering the words I wanted to use in masking fluid. Once that was dry, I covered the pages with a thick layer of gesso, then started adding layers of acrylic paint, stencilling and stamping. When I was happy with the result, I carefully peeled off the masking fluid to reveal the words, then added my theme 'I Begin…' using die cut letters.
I'm off to see what everyone else has been up to now. See you tomorrow!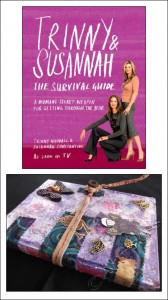 Ever since I saw Rae Missigman's 'Go Green' class on 21 Secrets 2013 I have been longing to have a go at making a recycled journal following her instructions. I have been an avid recycler for many years and have made use of many books in art projects, but I have never before taken one apart and reconstructed it, so this was a new adventure for me! My first step was a trip to my local Charity Shop to find a suitable hard back book to turn into my journal. These are the before and after pics!.
As usual I couldn't quite bring myself to follow all the instructions…
… plus I didn't have all the recommended ingredients, so I improvised a bit! The biggest change I made was to the binding. Because I had 7 signatures and my pages were quite heavy, I thought it better to use a different binding format to the one Rae taught. I used this brilliant tutorial from Sarah to learn how to do the binding the way I wanted.
But I digress! Having chosen and purchased my book for the princely sum of £1, the first task was to very carefully take it apart, removing all the signatures. Next came the fun part of decorating the cover, followed by the much trickier part of reassembling it into a book again! I started the decorating process with lots of layers of gesso, clean and painty tissues, and coloured inks dripped and sprayed. Once I was happy with that I added some scraps of material which I machine stitched very carefully to the cover – I only broke one needle in the process! Then came the embellishments which I added using hot glue and a material wrap to keep it closed. I am always envious of my American peers who seem to be able to purchase waxed bookbinding thread in assorted colours quite easily. I always end up waxing my own thread – and getting melted wax all over my cooker! With most of the book pages safely restitched within the covers I moved to inside the book.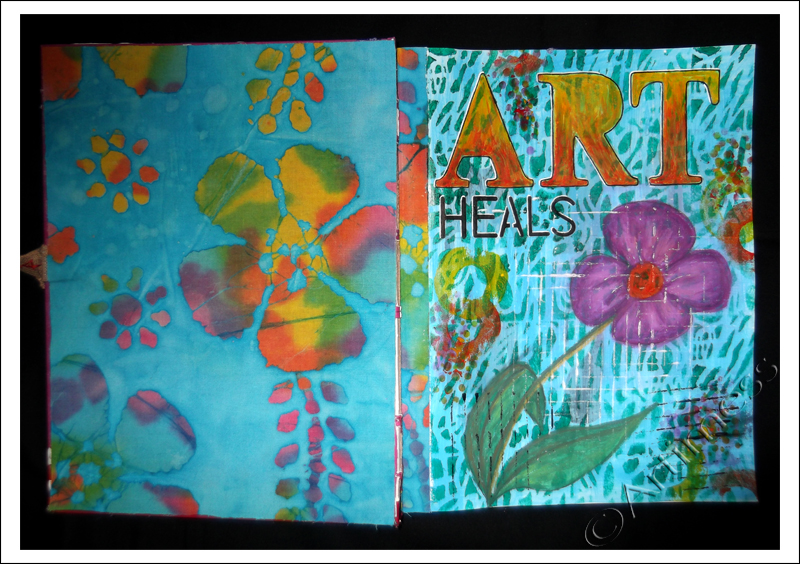 I covered the inside of the covers back and front with fabric which I stuck in using iron on fabric glue, then set to work creating a title page for the book. I started off with a layer of gesso, then added several layers of acrylic paint using a mixture of stencils and assorted stamping implements. I used letter stencils to create the titles and neocolour crayons to draw the flower.
I'm really pleased with the way the book has turned out and can't wait to work on some more pages! Thank you Rae for a really inspiring Class.