Up until the advent of the new easel, the biggest I had ever painted was a double page in my 12″x9″ Strathmore journal! To be honest, I had never had the courage to try anything bigger. But that's all changed now! With all the recycled cardboard from moving, I have lots of larger canvases to play on, and because they're made from recycled cardboard I don't have the fear of spoiling them that I might have if I'd invested lots of money in expensive canvases! And I'm really loving the freedom of painting big! Every day so far I've been adding some more to my 25″x25″ recycled cardboard.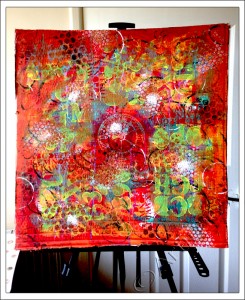 I've added more acrylic paint using letter stencils and home made stamps and am loving how it's looking so far, but have a feeling it still wants some more layers!
Meanwhile, I've been playing with some rather smaller pieces as well!
I created this one on recycled cardboard using acrylic paint, stencils, homemade stamps and a paint covered mopping up tissue to add the highlights…
…and this one on salvaged plywood using acrylic paint, acrylic ink and homemade stamps. The only problem with the plywood was that it had quite a pronounced curve from being used to protect the corners of something (I can't remember what!) and when I tried to flatten it for the scanner it cracked across the top and had to be mended 🙁 …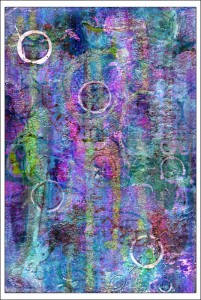 …and lastly – a little bit of sparkly digital blending – you need to look at the larger version to really see the sparkles.

I can't believe how long its been since I last posted here! I've decided that unpacking is a lot more stressful than packing … but it's finally all done – including the 5 boxes which my brother returned to me (after looking after them for the last 18 months) during his visit last week!
So… what have I been up to? I got my paint trolley from Ikea…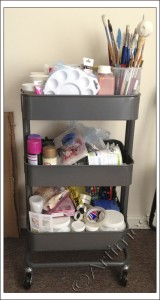 I broke up all the packing boxes and saved a big pile of assorted shapes to use as canvases, then started painting some of the smaller ones.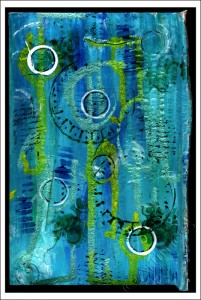 I painted this on recycled cardboard using acrylic paint, acrylic ink and various homemade stamps.
I painted this on a scrap of plywood salvaged from some packaging using acrylic paint, acrylic ink, clear stamps and a staz-on ink pad.
There are lots more to show you, but I haven't finished scanning them all yet, so I'll post pictures of them during the week.
I also got a brilliant easel for painting big …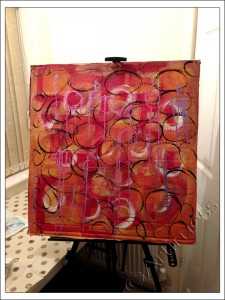 … as you can see – I've already started playing with it. This is just the first few layers – I've added two more since I took this picture!! I'll post another picture when it's finally finished.
I've also been playing digital … but you'll have to wait till tomorrow to see them or I'll never get this posted.
I'll leave you with this beautiful view taken on a trip to the Peak District, half an hour from our new home, yesterday.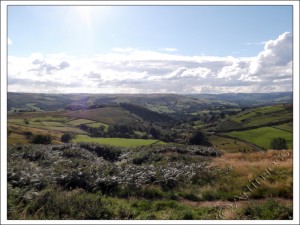 Moving day is less than 5 days away. Almost everything is in boxes, but I keep delaying sealing them up so that I can keep painting! We're moving into deep clean mode now – cleaning out cupboards, washing down paintwork and stuff like that. I ache all over from all the unaccustomed exercise!
I think I may be getting addicted to painting on recycled padded envelopes! They are so much fun, plus they're about the only things I can find to paint on at the moment! After the move I'll have loads of recycled cardboard – but for now I'm really enjoying my mail art.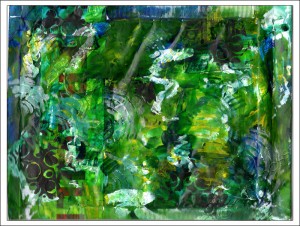 I began by adding some "Fragile" tape to the envelope to get it started, then added lots of layers of acrylic paint with my fingers. I originally intended to use ink pads to do my stamping, but they are packed too deep for me to get to them right now, so I used some more acrylic paint on my homemade stamps. I finished off by adding a bit of drippage – very watered down acrylic paint. I'm not sure if it's totally finished yet, but it felt like the right place to stop for now.

Project #4 in Kate Crane's 21 Secrets 2013 class is all about playing with ink! I managed to make quite a mess and had wonderfully coloured fingers for a day!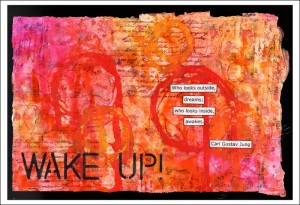 I started off with a piece of recycled cardboard and covered it with a patchwork of torn music squares then covered that with white gesso. Next came the messy part – spraying ink. It took several layers to achieve the look I was after and Kate showed us a really cool technique which disappointingly didn't work with my homemade ink sprays. Still I was pleased with the result I got. For the next layer I used an assortment of background stamps with colour co-ordinated distress ink pads. I have yet to add acrylic inks to my supplies, so I thought I'd have a go at making my own using golden fluid acrylics and water. It took a bit of juggling, but I managed to get quite a pleasing result which I used in a dropper to draw circles on top of the stamping. For the final layer I used Pitt Artist pens and an alphabet stencil to create my caption, and collaged a quotation from Carl Jung that I printed on my computer.
Just two more to go now!

Project #3 in Kate Crane's 21 Secrets 2013 class called for us to draw three people representations and journal on their bodies. Just prior to watching Kate's video, I had been reading these articles by William Bridges about transition and change: their meanings, the differences between them and their relationship to each other. While William Bridges is writing about these terms in relation to the work environment, I was thinking of them in a personal environment, and thought it would be interesting to use project #3 to journal about these ongoing experiences in my life. As a result I ended up with five figures!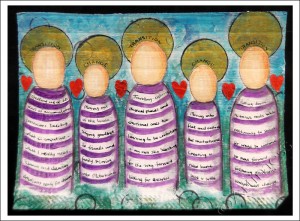 As before, I started off with a piece of recycled cardboard, but this time I began with two layers of white gesso. Next I positioned and lightly sketched my people, then painted the remaining background using acrylic paint and a variety of stencils, stamps and stamping junk (old bottle tops etc). I used more acrylic paint to paint my people, then added more depth to the colour using neocolour crayons. I added the journalling using a dip pen and black indian ink and finished the piece off with six hearts cut from leftover scraps from a previous project.
Three done, three more to go. Keep watching this space!