I have to admit, I'm really enjoying taking the time to be creative again. I've worked my way through the free workshops for the first time now, but am thinking of revisiting some of them as they were so full of inspiration that I'm sure I've missed some of it first time round. But I'll share some more of what I've created so far.
I created these two images in response to the workshop led by Kate Crane. I love how Kate uses recycled cardboard as a canvas to create her images – she's definitely a lady after my own heart. I've been using 'junk' in my artwork for many years now.
Rae Missigman always inspires me with her workshops, and this one was no exception. I'm not quite sure how the pages got to be so pink though cos I am definitely not a pink person normally!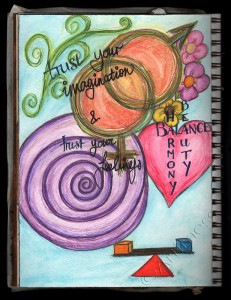 I thought I was going to struggle with Andrea Schroeder's workshop, but the results took me by surprise. As I followed her instructions, I found pictures kept popping into my head waiting for me to add them to the page. There's still some journalling to do, but I'll probably add that later.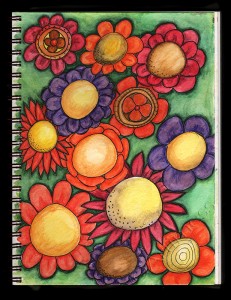 Diana Trout's workshop is definitely one that needs to be revisited. Her enthusiasm is so infectious, and I only took in a small portion of the amazing ideas she was sharing with us. That said, I really enjoyed creating this page and am pleased with how it turned out.
Hmmm… what shall I play with next?

I finally decided to take the plunge and join Tammy from Daisy Yellow on her link-love mission.
Today Tammy suggests we link to 5 of our favourite tutorials… so here goes.
Julie's blog is a constant source of inspiration and she has so many cool tutorials that it was difficult to choose just one, but I love the clever way this book is made from one folded sheet of canvas.
Folded Canvas Book from Julie fei-Fan Balzer at Balzer Designs
I love Effy's raw honesty and the energy in her creative work. This journal is really cool, and so simple to make!
Bookbinding 101 from Effy Wild
I adore Kaleidoscopes, and this tutorial from iHannah is just so simple to follow. Give it a try!
How to Create a Digital Kaleidoscope Mandala from iHannah's Blog
I just love the concept of this apron – combining the best of two aprons to make an amazing new creation!
Creating an Apron of Inspiration from Samie Harding at Journal Girl
I just found this really cool tutorial from Rae Missigman –
Plastic Fused Canvas and I can't wait to give it a try!
I'm off to explore everyone else's favourite tutorials now. I'll be back with some new artwork tomorrow!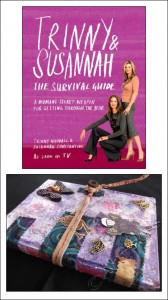 Ever since I saw Rae Missigman's 'Go Green' class on 21 Secrets 2013 I have been longing to have a go at making a recycled journal following her instructions. I have been an avid recycler for many years and have made use of many books in art projects, but I have never before taken one apart and reconstructed it, so this was a new adventure for me! My first step was a trip to my local Charity Shop to find a suitable hard back book to turn into my journal. These are the before and after pics!.
As usual I couldn't quite bring myself to follow all the instructions…
… plus I didn't have all the recommended ingredients, so I improvised a bit! The biggest change I made was to the binding. Because I had 7 signatures and my pages were quite heavy, I thought it better to use a different binding format to the one Rae taught. I used this brilliant tutorial from Sarah to learn how to do the binding the way I wanted.
But I digress! Having chosen and purchased my book for the princely sum of £1, the first task was to very carefully take it apart, removing all the signatures. Next came the fun part of decorating the cover, followed by the much trickier part of reassembling it into a book again! I started the decorating process with lots of layers of gesso, clean and painty tissues, and coloured inks dripped and sprayed. Once I was happy with that I added some scraps of material which I machine stitched very carefully to the cover – I only broke one needle in the process! Then came the embellishments which I added using hot glue and a material wrap to keep it closed. I am always envious of my American peers who seem to be able to purchase waxed bookbinding thread in assorted colours quite easily. I always end up waxing my own thread – and getting melted wax all over my cooker! With most of the book pages safely restitched within the covers I moved to inside the book.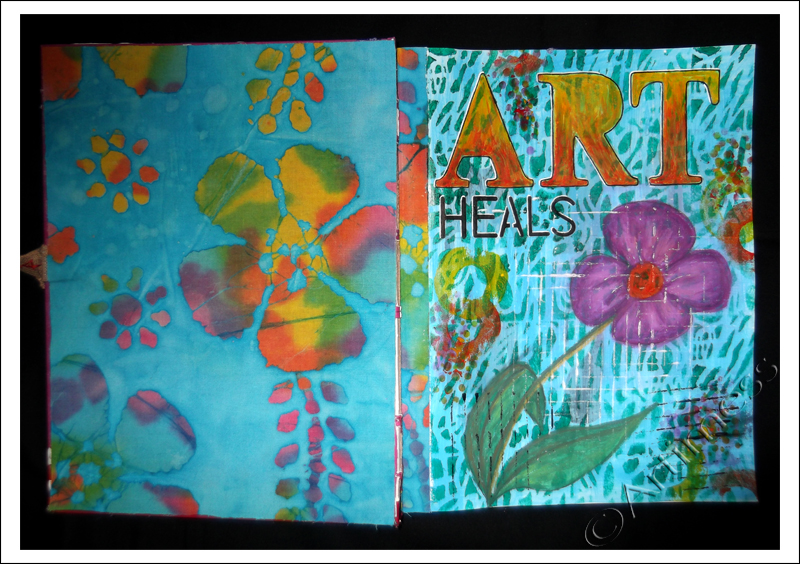 I covered the inside of the covers back and front with fabric which I stuck in using iron on fabric glue, then set to work creating a title page for the book. I started off with a layer of gesso, then added several layers of acrylic paint using a mixture of stencils and assorted stamping implements. I used letter stencils to create the titles and neocolour crayons to draw the flower.
I'm really pleased with the way the book has turned out and can't wait to work on some more pages! Thank you Rae for a really inspiring Class.

I have been busy painting and working on Rae Missigman's 21 Secrets 2013 Class, but I have nothing to show yet, so I thought I'd share some digital playing instead. I was catching up with my reading list yesterday and came across this post from iHannah about creating digital kaleidoscope mandalas. Well – I just had to give it a try, didn't I!
I decided to use my Face Emotions image as the source and had great fun playing. iHannah's instructions are very helpful. I created four mandalas, but that wasn't enough for me. After downloading the results I had to play digital blending to take it that little bit further! This is the result.
Thank you iHannah for the inspiration, and thank you SumoPaint for a nifty piece of software.