Project #4 in Kate Crane's 21 Secrets 2013 class is all about playing with ink! I managed to make quite a mess and had wonderfully coloured fingers for a day!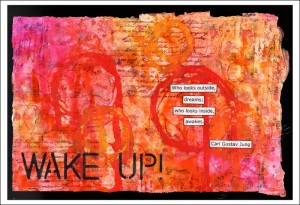 I started off with a piece of recycled cardboard and covered it with a patchwork of torn music squares then covered that with white gesso. Next came the messy part – spraying ink. It took several layers to achieve the look I was after and Kate showed us a really cool technique which disappointingly didn't work with my homemade ink sprays. Still I was pleased with the result I got. For the next layer I used an assortment of background stamps with colour co-ordinated distress ink pads. I have yet to add acrylic inks to my supplies, so I thought I'd have a go at making my own using golden fluid acrylics and water. It took a bit of juggling, but I managed to get quite a pleasing result which I used in a dropper to draw circles on top of the stamping. For the final layer I used Pitt Artist pens and an alphabet stencil to create my caption, and collaged a quotation from Carl Jung that I printed on my computer.
Just two more to go now!

Ooops! – I got sidetracked again! But this Life Book lesson from Dawn DeVries Skol was just so much fun!
I started by painting the background using acrylic paint. I decided that I wanted the self-portrait to be transparent so I printed it on overhead projector film then cut it out and stuck it down using gel medium. It has left me with a slightly streaky face, but I like being able to see the background through the image. Next I added the journalling and doodling using Pitt Artist pens and coloured the large letters and doodles using neocolour crayons. Lastly I inked round the edges of the pages with a distress ink pad. Thank you Dawn for a really great lesson!
Now I really am going to get back to Dion Dior's 21 Secrets Lesson!

The trouble with being signed up to two online courses at the same time, is that it's easy to neglect one in favour of the other. But I just couldn't resist trying this lesson, Let Your Light Shine, by Joann Loftus from the Life Book 2013 course. As with many of the lessons, I didn't have all the suggested ingredients so I did a bit of improvisation – and I must admit – I'm loving the result!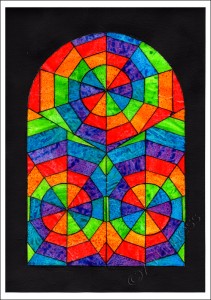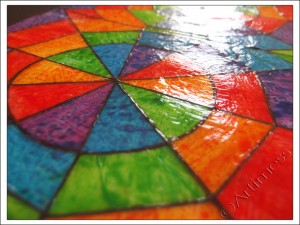 While the scan captures the colours beautifully, it doesn't show the amazing shine on the finished 'window', so I've included this detail picture so that you can see how it shines!
I created the 'stained glass' using tissue paper, pva glue and acrylic paint- not quite what I was supposed to have used – but it seems to have worked! Cutting out all the pieces and sticking them down was a slow process, but it was cool watching the design come alive as each new colour was added. Next I added the 'leading' lines using Pitt Artist Pens (they didn't like writing on the glue and kept drying up!), and lastly I coloured the border using black gesso.
I still have lots of the 'stained glass' left over so watch out for it in other projects! Now I really must get back to finishing the second half of Dion's class. See you later!

"The most precious gift we can offer others is our presence. When mindfulness embraces those we love, they will bloom like flowers."
I thought this quotation from Thich Nhat Hanh was very appropriate for my journal spread inspired by Cathy Bluteau's class on the 21 Secrets 2013 course.
Why is it that whenever you want a specific sort of image in a magazine you can never find what you want? I ended up sourcing my flowers online from Five5Cats who very kindly allows her images to be used for private artwork. Thank you Cindy!
I collaged the background using old papers and flowers, then added doodling using Pitt Artist Pens. I coloured my doodles using Inktense pencils and filled in with more collage using various tapes and pieces of old artwork. I created the quotation using digital text and finished off by adding details with Pitt pens, an Edding 780 paint marker, neocolour crayons and distress ink pads.
I've never done anything quite like this before, but I really enjoyed it and will definitely do some more pages using these techniques. Thank you Cathy for a great class!

I had so much fun in March making 10 postcards to send out around the world as part of the iHanna Postcard Swap 2013, but this month has been just as much fun seeing what the postman has brought me every day.
These are the postcards I have received so far – aren't they beautiful! And they came with lovely messages from all around the world. Thank you so much Hanna for all your hard work to make such a swap possible.
Yesterday I had every intention of getting messy and grungy and playing mixed media games, but life decided otherwise! So instead, I created another Quirky Bird. This one's called Freda!
I painted her on calico, after using clear gesso to seal it. My original intention was to paint her using the natural calico colour as the background, but I made such a mess of drawing her, and the pencil lines wouldn't rub out, so I ended up painting over the background to hide the mess!!
She's painted using acrylic paint, neocolour crayons, Edding 780 paint marker and Pitt artist pens. Despite the early disaster, I don't think she's turned out too bad.
And now your must excuse me – I have an overdue date with some messy mixed media grunge!!

Yes, I have definitely got the Quirky Bird Bug – I can't seem to stop drawing them!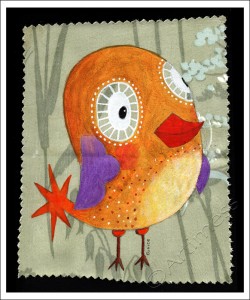 This time I decided to try painting one on material. I primed the material using clear gesso then painted the bird using a mixture of acrylic paint and neocolour crayons exactly the same way I did on the paper. I'm really pleased with how it turned out – I love the way the pattern on the material shows through in places under the paint.
Drawing birds has kept me from finishing my latest zentangle canvas, but today I finally finished it – number five in the series!
I decided to try drawing with some Pitt artist pens as the unipin pen nibs were wearing out so quickly! The Pitt pens are lovely and very waterproof, but I think it must be drawing on the canvas – they're wearing down too! As before, I used the luscious Twinkling H2O's to add colour to the image.
Maybe some mixed media paint splashing will cure me of the Quirky Bird Bug – keep watching this space!