The last few times I've been out, I've been snapping pictures of summer feet…. and true to form – I wondered what they'd look like if I played a spot of digital blending with them.
I took two of my photographs, added an artwork scan and whizzled the blending buttons. I rather like the result – what do you think?

Today was such a beautiful day, I went out for a walk with my camera. Everywhere was a riot of colour: roses, bluebells, campions, clover, wild garlic, buttercups and daisies, to name the few flowers I know the names of, all showing off their vibrant colours in the long overdue sunshine. I took over 100 photographs! – but you know me, that wasn't enough, when I downloaded them onto the computer I had to play digital blending with them!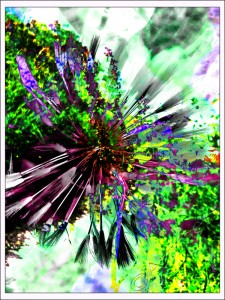 These are the three flowers that I played blending games with. I started off with the rose, then added the dandelion seed head, finishing up with the red grass like plant whose name I don't know. Each flower was blended separately before I blended them together. Can you spot them in the final blend?

Today I discovered some photographs on my phone that I had forgotten about and felt in the mood for a little digital hocus pocus.
I started out with the photo I took of the rusty seat bracket, duplicated it, inverted the duplicate then blended the two together. Then I added the leftover paint splurge scan and got creative.
I really like the way that turned out especially the 'eye' on the right hand side, but I wanted to add a quotation. After some more digital wizardry…
…I finished up with this. What do you think?