I'm really grateful for the inspiration I have had from Effy Wild and Sarah Trumpp this year. This page was inspired by both of them. The idea for the spread came from my response to Effy's Book of Days prompt for the 29th April, and Sarah's week 18, Journal 52 video inspired me to try drawing with my watercolour paints.
Although it's not perfect, I'm just loving the result and will definitely be using this technique again. Thank you both for your combined inspiration!
At last my postcards for the iHannah DIY postcard swap are ready to send.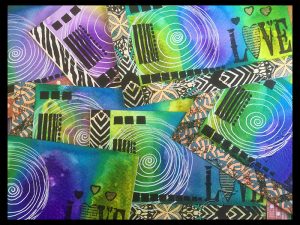 Here's a quick sneak peak at them before they start winging their way across the ocean.
This next image is a bit of digital wizardry.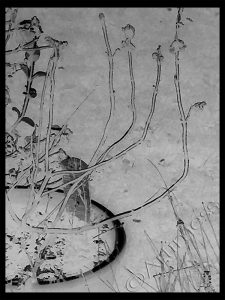 It started out as a photograph of some bare stems in the evening light. I desaturated the colour to make it black and white, then inverted the colours. I really like how it turned out.

As promised yesterday…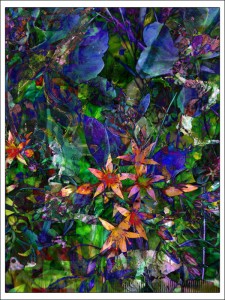 …today I played with a spot of digital blending! I blended the original photograph together with a scan of the blue green mail art I created a few days ago. I'm quite pleased with the way it's turned out. What do you think?

"Just let go… … and soar to the heights …" was inspired by the second part of Carissa Paige's class on the 21 Secrets 2013 course.That's me painted over to look like a bird soaring in the sky – Oh how I envy the birds their ability to soar on the wind!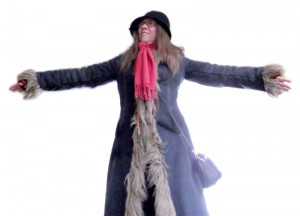 I created a background using a mixture of acrylic paint and spray ink then glued on this silly picture of me with my arms outstretched pretending to fly! I painted over the photo with acrylic paint, turning my arms into wings and giving myself some nice purple feathers and an orange beak, then added the digital text which I coloured using neocolour crayons. I finished it off by adding a couple of friends for me to fly with cut out from old paint stained tissues!
The arrival of this wonderful card from Australia has left me very sad. iHanna's postcard swap 2013 is finally over! But I have got some beautiful reminders and some of the lovely people I've met want to keep in touch, so hopefully there'll be some more artwork winging it's way around the world. Meantime, if you hear of any more swaps – please let me know!

I'm playing catch up today – it's been a really busy week!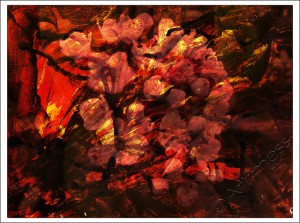 On Tuesday, I created a couple of backgrounds using a mixture of acrylic paint and ink. I scanned them both into the computer then added a photograph of some flowers and blended them to create this image.
On Wednesday I followed a video from Doll Dreams teaching us how to draw these cool doll birds! I tried it out in my everyday notebook using a uniball eye pen, then did the doodle later using my rapidograph pen while I was on the telephone! I didn't plan for them to go together, but I think they do anyway! Do you agree?
Today I had fun playing with all sorts. I started by colouring the page with neocolour crayons, then collaged an embossed sheet which I had coloured with distress ink and the stamped image of the globe which I cut out. Next I added the text which I printed on the computer and coloured using a watercolour pencil and a gold marker pen. Finally, after scanning, I added a bit of digital shading and distressing. I really like how it turned out. What do you think?

I have finally finished part two of Life Book Week 1! I had so much fun creating this – thank you Tam for such a great lesson! I chose an aeroplane as my mode of travel as I have have only just got my passport and have never yet flown. I intend to take my first flight in 2013!
I created my background using watercolour paint and rock salt, then added a collage of the plane, which I coloured using neocolour crayons, combined with a picture of me. I created the flowers using circles punched from old magazines then added the details using a uniball eye pen and watercolour pencils. Having already stuck the plane to the page, I then decided I wanted some buildings behind it! Nothing like planning for getting things in the right order! I photocopied a book drew the buildings using the uniball eye pen, then coloured them using watercolour pencils. Then I had to cut them to fit round the plane! Next came the clouds, using the uniball pen and white gesso, and the sun using the uniball pen, yellow acrylic and neocolour crayons. Lastly I added the text digitally after scanning.
Phew! All done just in time to start Week 2. Roll it on!