I'm not as happy with today's face…
… she started out alright, then seemed to go wrong with the colouring. I may try painting over her and trying again … or then again I might just move on to something new!

Here's my face number two.
I drew her in pencil, then coloured her using acrylic paint and watercolour pencils.
I've been busy finishing my game board for last weeks Life Book lesson and hope to post it tomorrow.

February is the month Ayala Art challenges us to draw 29 faces. I missed the February challenge last year, but took part in the May and September challenges and was amazed how the discipline of drawing faces every day for a month improved my face drawing and painting skills.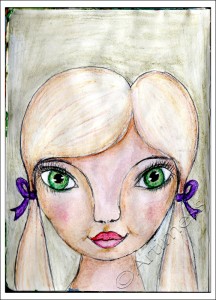 So here's my first face for the challenge. Drawn in pencil then coloured using a mixture of watercolour pencils and acrylic paint.

Yes! – the first Life Book class for 2013 is up and is not disappointing. As always – Tam gives such excellent value for money. This weeks lesson has two parts to it! This is my interpretation of the first part.
I created the background using neocolour crayons, then drew my Fairy Art Mother in pencil and coloured her using more neocolour crayons. I liked the way she looked on the page so rather than adding my text to the physical page, I added it digitally after scanning her.
I'm off to get on with the main project now – see you later!

Seeing all the beautiful Christmas cards people have been making out there, I thought it was maybe time I put my newly learned skills to use making some Christmas cards to send to my friends. With that in mind, I set about drawing a Christmas Angel.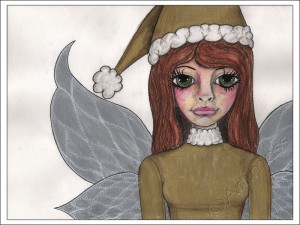 I drew her using pencil, then coloured her using a combination of Caran d'ache watercolour pencils, acrylic paint, a Sakura Pen-touch marker and a Uniball eye pen. When she was completed I scanned her into the computer to add a digital background.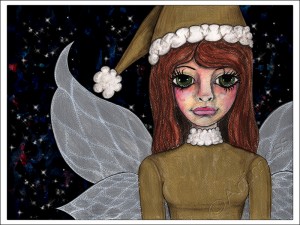 I created the background using a blend of two of the stencil backgrounds I made last week together with a star brush.
Lastly I took the image, added a digital 'Happy Christmas' down the left hand side and created a printable Christmas card.
They're all winging their way through the postal system at this moment and will hopefully arrive in time for Christmas!

Phew! – that was one busy week!
But I'm back now and still playing catch up on the Life Book 2012 course – I'd better get a move on as I've just signed up for the 2013 course!
This is my interpretation of Adriana Almanza's Hope Fairy lesson from Week 31. I had so much fun – I hope you like her!
I drew the fairy in pencil then outlined her using a permanent marker pen. Next I painted the background using acrylic paint. I coloured the fairy using a mixture of Caran d'ache watercolour pencils, acrylic paint and white paint markers. I stamped the flowers onto white paper using a black staz-on ink pad and coloured them using Caran d'ache watercolour pencils, cut them out and collaged them into the picture. Lastly, I added the text digitally after scanning the picture.

Today I played catch up with my Life book 2012 classes. I completed Lesson 29 from Jodi Ohl. The lesson started with a positive letter to my younger self which I then tore up and used as the basis for the piece. For the next layer I added some printed tissue paper followed by a thin wash of white gesso. Then I stamped a border using home-made foam stamps and acrylic paint – messy!
When it was all dry I drew the face using pencil and coloured it using a mixture of acrylic paint, gesso, Inktense pencils, uniball pen and pencil. Finally I added a set of positive affirmations around the edge.
I had so much fun making this and found the personal development element very useful – thank you Jodi!

The other day I downloaded the latest free ebook from Cloth, Paper, Scissors magazine and was inspired by Lisa Engelbrecht to create this.
I hand drew the letters in pencil, then coloured them using Derwent Inktense pencils and outlined them using Stabilo point 88 pens. After I scanned the image into the computer, I tried out lots of different coloured backgrounds, but decided I preferred the original or plain black.
Which do you prefer?

This weeks Life Book lesson is about celebrating the things we have achieved this year. I am very fortunate in having many things to celebrate – having given up my security to travel, successfully navigating the subsequent soul searching and releasing that went with it, resettling in a new location, studying and developing my spiritual life, completing the first two levels of Reiki training, and getting back into creating every day.
So it gave me great pleasure to create this whimsey with her animal totem, Badger. I drew her in pencil, then coloured her using neocolour crayons. I used some patterned paper to collage her dress and used letter stamps to create the word 'celebrating' in the balls I gave her to juggle with. I added golden stars using star confetti and coloured the background using a neocolour crayon. It looked good but I felt something was missing. So… I used a watercolour pencil to write words describing what I was celebrating around the balls, then blended them into the background using a damp brush. Although it more or less obliterated the words, the extra colour just completed the picture.
Thank you Tam for such an inspiring lesson 🙂

I started today by painting a couple of backgrounds using derwent watercolour pencils, a blue one and a yellow/green one. While I was waiting for them to dry I felt prompted to draw a female face on the yellow/green background. So here she is – my Green Goddess!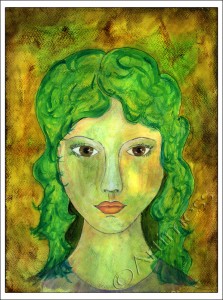 I drew her face in pencil, outlined it using a uniball eye pen, and coloured it using neocolour crayons, leaving quite a lot of the background colours still showing through. Lastly I darkened the background using distress ink pads.
I have no idea where her face came from, but I'm quite pleased with the finished result.