It's less than two days now before we get the keys to our new home and it's getting to the point where I will have to seal up the boxes with my paint in. But I was determined to have one last play before that happens.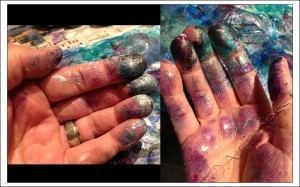 As you can see by the state of my hands, I had a lot of fun!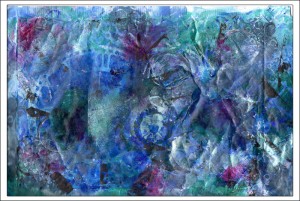 And this is the new mail art! I really wanted the colour to be all blue, but as you can see… the red and purple just couldn't help but creep in! I used acrylic paint with stencils and fingers and home made stamps, and lots of layers – so many layers, that I don't think any of the original envelope shows through at all!
I hope to be back with the paint by the weekend, but till then I'll be playing with photos and blending and possibly some words!.

Four days left and counting! The packing is done except for the last few bits, all the boxes are taped up except for three of my art supply boxes, so we're almost there!!
Carrying on the addiction, here's another recycled padded envelope. This one originated from my pen supplier!
I started out with the 'Fragile' tape again – I do like how that looks through the paint! Then I added a couple of small gel medium transfers, and followed it up with lots of acrylic finger painting, recycled stamping, homemade stamping and stencilling. I finished off with a little metallic paint drippage. I think this one may have a face lurking in its depths … keep watching to find out!